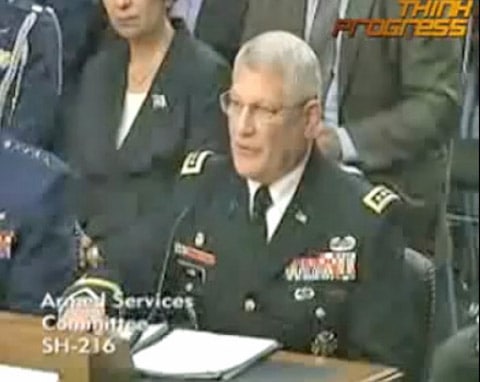 Senator Carl Levin asks General Carter Ham, co-chairman of the Pentagon's Working Group on Don't Ask, Don't Tell, if he could make every effort to deliver the Pentagon report on 'DADT' before the December 1st deadline.
Ham also told Senator Joe Lieberman that the breadth of the study is impressive: "We believe this is probably, as far as I could tell, the most comprehensive assessment of a personnel policy matter that the Department of Defense has conducted."
And Senator Jim Webb praised the care and depth of the study:
"I can't, again having spent five years in the Pentagon. I can't remember a study on this type of issue that has been done with this sort of care. Not even having seen it or knowing the results, but I know the preparation that went into it. So it's going to be a very important study for us to look at and examine."
Last night Senator Harry Reid committed to bring the measure to a vote in December sometime during the lame duck session.
Watch all the clips, AFTER THE JUMP…
(thanks to igor volsky at the wonk room)