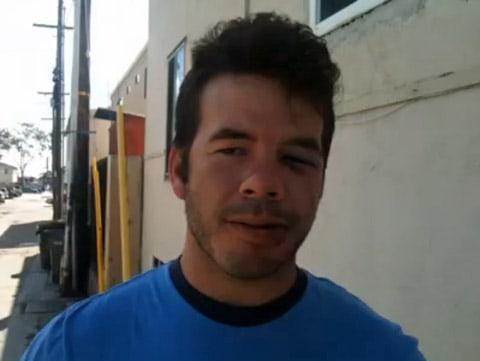 Jacob Harshbarger of San Diego was allegedly beaten unconscious in his alley behind his home on Halloween night by at least five people who used anti-gay slurs.
The San Diego Gay & Lesbian News reports: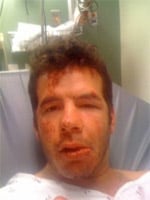 Harshbarger, who is openly gay, says he believes the assault was hate motivated. Harshbarger, who is now recovering at home, said he was diagnosed with a concussion, had 13 stitches placed in his split and swollen lips, has a black eye and bruising in the back of that eye, and other injuries.
After returning home around 3 a.m. from local bars, Harshbarger took his two large dogs for a walk before he planned to go to bed. Harshbarger says he has limited memory of what happened after he walked out the back door into the alley behind his house in the 4800 block of Texas Street. He recalls seeing three men and two women 'hanging out' in the alley who seemed to be "out of place." They asked him some sort of question, but he says he does not recall the content of the question.
Harshbarger says he was wearing a T-shirt with a gay sexual innuendo printed on it. He was also wearing a hoodie over that T-shirt. After the brief exchange with the group, he recalls one of the individuals reading the provocative text on his T-shirt and immediately calling him a 'f*****g faggot.' They began beating and kicking him, and Harshbarger recalling hearing statements such as 'homo' and 'come over here and kick the fairy.'
A neighbor recalls hearing a big 'bang' against the back side of her house, which is believed to be when Harshbarger was thrown against the wall. The neighbor and her son came out of their home and found Harshbarger lying on the ground.
Police say it is too early to determine whether the attack was motivated by hate: "Hebdon noted that when she found Harshbarger lying in the alley, his hoodie jacket was zipped up, meaning that attackers would not have seen the gay-themed T-shirt that Harshbarger believed may have set off the attack. While the identity of the attackers is not yet known, Hebdon said that a cell phone was left at the crime scene, which she believes belongs to one of the attackers. This piece of evidence may lead investigators to the attackers. Harshbarger says he is not sure why he was attacked."
Fernando Lopez, a friend of Harshbarger's toured the area where Harshbarger was attacked and shot a video, which you can watch, AFTER THE JUMP…