Three students at St. Charles North High School in suburban Chicago decided to wear "Straight Pride" T-shirts to school during the school's "ally week" on Monday. "Ally week" is meant to raise awareness about anti-gay bullying.
The St. Charles Republican reports: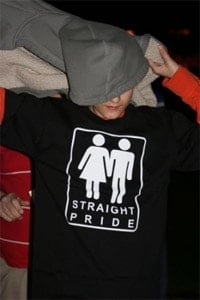 Michael Fairbanks, president of the St. Charles East Gay-Straight Alliance, sent out an e-mail to the media last night saying a group of St. Charles North boys came to school yesterday with shirts that read "STRAIGHT PRIDE" on the front and "If a man lay with a male as those who lay with a woman, both of them have committed an abomination and shall surely be put to DEATH," a Bible verse from Leviticus 20:13.
"Students were greatly offended," Fairbanks said in the e-mail. "Fellow classmates are saying gay people should be put to death because they are gay. Who wouldn't be offended?"
St. Charles Community Unit School District 303 spokesman Jim Blaney said once the building administrators became aware of the shirts, the three students wearing them were called into the deans' office to discuss the matter. They were sent back to class and later were called back for a second discussion.
Blaney said the administration wanted to explain to students that they have a right to express their point of view, but they also wanted to make the students aware that their message could be seen as hurtful by other students.
Fairbanks said in his e-mail that multiple codes of the student handbook were violated, including a passage stating that students should not disrupt the educational process or interfere with a positive learning and teaching environment through clothing.
According to the Kane County Chronicle, the students were not punished:
District 303 spokesman Jim Blaney said three students showed up Monday at St. Charles North wearing shirts that said "Straight Pride" on the front and quoting a Biblical verse from Leviticus on the back of the shirt referencing death as the punishment for homosexual behavior.
The students were initially called into their deans' offices after the shirts created tension among the other students, Blaney said. There was then a second discussion with the students.
"The students said their intent was not to intimidate any one or cause physical harm," Blaney said. "Their intention was to show their pride in being straight."
The school reportedly wanted to use the incident as a "teachable moment" for freedom of expression. Seriously? During "ally week"? I'm sure that all the bullied gay and lesbian teens in that school district feel safe now.
Blaney and St. Charles better hope they don't have a gay suicide on their hands.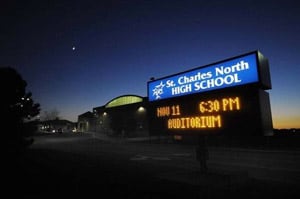 Said Senior Steven Boi, one of the students who wore a "straight pride" t-shirt, to the Daily Herald:
"The reason why we wore the shirts was just to express our views. People have said Ally Week is for everyone, but after Monday it was clear that it was more designed for homosexual students. We wore our shirts on Tuesday to express our views that we're straight, and we have the right to express that. But my dean told me on Tuesday, because of the people who wore the other shirts on Monday, our shirts were considered disruptive to the learning environment. To me, Ally Week itself has been disruptive. Instead of learning in class, we have to sit there and talk about all this other stuff that's happening because of Ally Week…There is clearly a double standard here, and we're really upset about this. They said the reason we can't wear 'Straight Pride' shirts is because they are disruptive. And I can understand how maybe some people were intimidated by the shirts with the Bible verse. But I don't understand how some students are able to wear 'Gay Pride' shirts while we can't wear shirts that just say 'Straight Pride.' We wanted to wear them because we wanted to raise the fact that we were getting ripped on for supporting our straight sexuality, and also as a way to prove that our school has double standards."
The Daily Herald reports that tensions are still rising at the school:
"Word is spreading that a larger showing of students may wear 'Straight Pride' or all-black shirts in protest of the district's decision to ask student not to wear anything containing those words. And when Friday comes, the Illinois chapter of the ACLU will be watching."
*Note: photo above is from a Michigan Tea Party rally, and not a student at the school.