Iowa Family Policy Council President Chuck Hurley says he'll reveal more about a new group he's formed, to spread even more bigotry and injustice in Iowa, the Iowa Independent reports: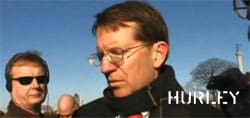 IFPC's The Family Leader will be an umbrella group led by former gubernatorial candidate Bob Vander Plaats, fresh from his successful campaign to oust three Iowa Supreme Court justices for their 2009 gay marriage ruling. The new group will incorporate the Iowa Family Policy Center, the IFPC PAC and the formerly federally funded program Marriage Matters. More specifics about the group are expected to be announced this weekend at IFPC's annual fundraiser featuring possible 2012 presidential hopeful Mike Huckabee.
Vander Plaats told the Des Moines Register that the main focus of the group will be vetting and endorsing 2012 presidential candidates.
According to 990 tax forms, the national Family Leader Network was founded in 2006 and is based in Fairfax, Va. However, there is no such entity listed with the Virginia Secretary of the Commonwealth. The 990 was filed by a board member of The Family Leader Network based in Utah, but the Utah Secretary of State has no record of the organization either.
In related news regarding the three justices that were ousted in Iowa, the replacements will be named by incoming anti-gay governor Terry Branstad (of course) and not Chet Culver:
"A member of the commission that will offer potential replacements for ousted Iowa Supreme Court justices said the process can begin in December, but the panel isn't scheduled to make recommendations until January, likely leaving the choice to Gov.-elect Terry Branstad….Des Moines lawyer Guy Cook, a member of the Judicial Nominating Commission, said the panel can't meet until the Nov. 2 election results are certified in late November. The panel will meet in early December, and it has 60 days to make decisions for three vacancies on the seven-member court.The Republican Branstad will be sworn in Jan. 14, replacing Democratic Gov. Chet Culver. Cook said it's almost certain the justice choice will be left to Branstad. 'Do the math,' said Cook. The 15-member commission will forward three nominees to the governor for each vacancy. He will choose one of those three for each open position, and the selection will be final."