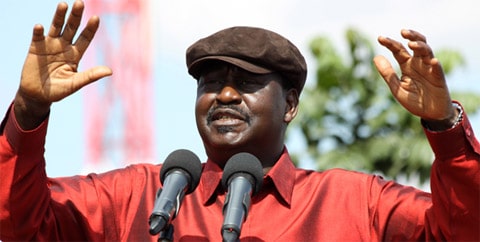 Kenyan Prime Minister Raila Odinga called for gay people to be arrested at a rally on Sunday, the Daily Nation reports:
Addressing a rally at Kamukunji grounds in his Langata Constituency, the PM said their behaviour was unnatural.
"If found the homosexuals should be arrested and taken to relevant authorities," Mr Odinga said.
The PM thrilled the crowd when he asserted that the recent census showed there were more women than men and there was no need for same sex relationships.
He said it was madness for a man to fall in love with another man while there were plenty of women and added that there was no need for women to engage in lesbianism yet they can bear children.
Said Odinga: "We will not tolerate such behaviours in the country. The constitution is very clear on this issue and men or women found engaging in homosexuality will not be spared
David Kuria, a prominent gay activist in Kenya, told the BBC that Odinga's were surprising:
"It was believed to be the first time he has made such comments. Mr Kuria told the BBC's Network Africa programme that he did not know why Mr Odinga made the comments. He said most African leaders who condemned homosexuals were trying to gain political leverage but he said Mr Odinga was already popular so his statement was 'surprising'. An MP in neighbouring Uganda last year tried to introduce the death penalty for some homosexual acts, sparking international condemnation. The BBC's Caroline Karobia in Nairobi says gay people are largely left alone in Kenya as long as they do not draw attention to themselves. The city is home to some well-known gay pubs, she says."
Kuria warned that gay "people will succumb to extortion, blackmail and violence" because of the remarks.