A letter written in September 2010 to Defense Secretary Gates by Senator John McCain reveals that McCain urged Gates to modify the Pentagon troop survey so that it would ask the troops whether the ban on gays serving openly should be lifted and not on how to implement a repeal, the Wonk Room reports: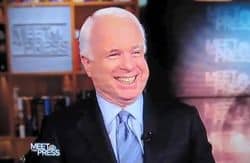 Begged McCain:
"I urge you and Admiral Mullen to modify the review and the survey instrument, or to conduct supplemental surveys, aimed at ensuring that the question of whether the DADT policy should be changed is answered."
Gates responded to McCain that it would be unwise to put such issues to a popular vote.
Wrote Gates: "I do not believe that military policy decisions — on this or any other subject — should be made through a referendum of Servicemembers."
Added Gates: "The Chairman and I fully support the approach and the efforts of the working group, as do the Service Chiefs. We are confident that the working group's report will provide us with the information we need to appropriately advise the President, and, if requested to do so, to provide our fully informed views to Congress as it considers legislative action."