MSNBC host Keith Olbermann has been suspended indefinitely, without pay, for not disclosing contributions to the campaigns of three Democrats: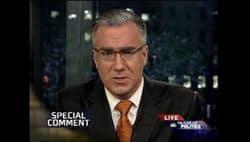 "'I became aware of Keith's political contributions late last night. Mindful of NBC News policy and standards, I have suspended him indefinitely without pay,' MSNBC president Phil Griffin said in a statement."
"MSNBC host Keith Olbermann made campaign contributions to two Arizona members of Congress and failed Kentucky Senate candidate Jack Conway ahead of Tuesday's election — a potential violation of NBC ethics policies. Olbermann, who acknowledged the contributions in a statement to POLITICO, made the maximum legal donations of $2,400 apiece to Conway and to Arizona Reps. Raul Grijalva and Gabrielle Giffords. He donated to the Arizona pair on Oct. 28 — the same day that Grijalva appeared as a guest on Olbermann's 'Countdown' show…NBC has a rule against employees contributing to political campaigns, and a wide range of news organizations prohibit political contributions — considering it a breach of journalistic independence to contribute to the candidates they cover."