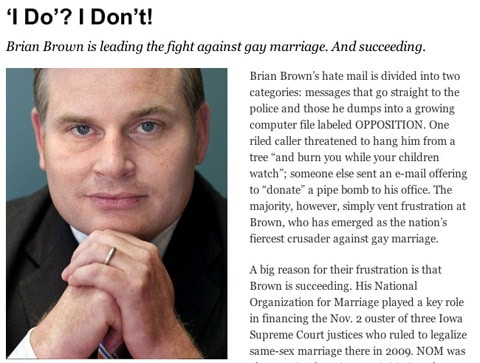 I guess that depends on your definition of success.
After the lengthy puff piece, they backtrack a bit:
"Though both sides like to claim they're winning this fight, the jury is out. This year New Hampshire and Washington, D.C., joined Iowa, Connecticut, Massachusetts, and Vermont in legalizing gay marriage. And polling shows support for it is on the rise, up from 27 percent of Americans in 1996 to 44 percent today, according to Gallup. But in the 31 states where gay marriage has been put to a vote, it's lost every time. Ultimately the Supreme Court may make the call, if it takes up Perry v. Schwarzenegger—a case gay advocates liken to Brown v. Board of Education; Brian Brown calls it "the Roe v. Wade of marriage." Until that day—and perhaps long after—Brown is prepared to keep getting hate mail."
Jeremy Hooper fills in a few holes in Newsweek's portrait.