Wingnut Peter LaBarbera (aka 'Porno' Pete) of the Americans for Truth About Homosexuality (AFTAH), is concerned about same-sex TSA patdowns: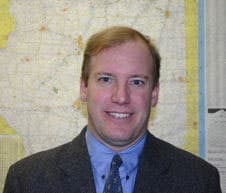 Homeland Security Sec. Janet Napolitano went out of her way yesterday to stress that the TSA pat-downs are "same-gender" — mostly to reassure women that men will not be groping them at airports in the name of safety.
"But what about homosexual TSA agents?" AFTAH President Peter LaBarbera responded. "Isn't it just as inappropriate for a 'gay' male TSA agent to pat down male travelers as it is for a normal, heterosexual male TSA agent to pat down female travelers?
"The reality is, most traveling men would not want Barney Frank to pat them down at the airport security checkpoint," LaBarbera said. "Neither would it be fair to assign Ellen DeGeneres to pat down female travelers. (In the same vein, the Army should no more force normal male soldiers to shower and bunk with homosexual male soldiers than it would force females soldiers to bunk and shower with their male counterparts.)"
Read through for the LOLs.
No doubt Porno Pete has fantasized long and hard about getting an intense wanding at airport security.