Pope Benedict is visiting Spain this weekend and will be targeted with a big kiss this Sunday, the Guardian reports: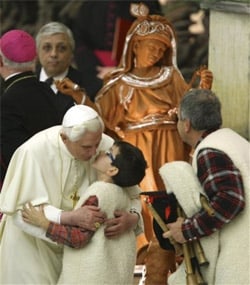 "Organisers have invited gays and lesbians from around Spain to congregate in Barcelona during the papal visit on Sunday to form what, on their Facebook page, they call a 'queer kissing flashmob'. The plan is for participants to meet at the city's gothic cathedral and start kissing as soon as the pope steps out of the building at 10am. 'No placards, no flags, no shouting and no slogans. Only kissing allowed,' the Facebook page reads. 'When Benedict XVI passes in front of us we will kiss, man-to-man and woman-to-woman,' Marylene Carole, one of the organisers, told the Spanish news agency EFE. A whistle or horn will mark the beginning of a two-minute period during which couples are expected to maintain mouth-to-mouth contact. 'Once the kiss is over we will go on our way as if nothing had happened,' she said. Some 1,500 people have pledged, via Facebook, to take part in the event. Invitations have been sent out via the social networking site to 12,000 more. The planned kiss-in has provoked the fury of some Spanish Catholics, and even saw the group's page temporarily erased by Facebook."
Here's the Facebook page for the queer kiss flashmob, in case you're in Barcelona this weekend.