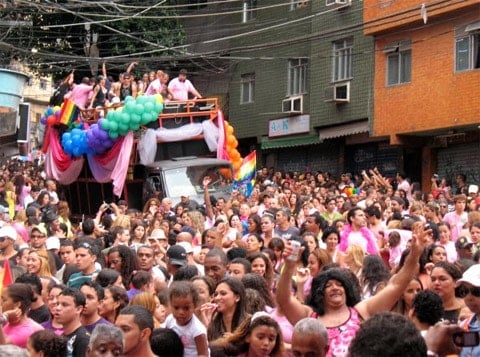 (images qualidade de vida)
The first-ever Gay Pride in a favela in Rio de Janeiro was held in late October in Rocinha, according to a report on the blog Qualidade de Vida: "There is a commitment to joyfulness, no matter the circumstance. You gotta love that!"
The Santa Barbara Independent also has a report:
From a foreign perspective, the parade might not seem so momentous. Rio de Janeiro is the most visited tourist destination in Latin America, and almost one third of its visitors are part of the global LGBTcommunity. But in such a touristy, socially segregated city, visitors and lower class citizens live in worlds apart. Gay tourists to Rio de Janeiro rarely stray from the gay beach in the Ipanema neighborhood, or the bars and clubs on "gay street," Farme de Amoedo, directly across from the beach. These visitors will mostly only interact with other gay tourists and Brazilian "Barbies"—the tan, muscular, wealthy gay men whose day job seems to be nearly-naked perching on the beach in Ipanema.
But to be born and raised in a favela poses challenges unfamiliar to the short-term Ipanema tourist. Rocinha has a considerable LGBT community, but the conservative Christian community is much bigger and more powerful. In fact, all favelas are relatively socially conservative in Rio, and have a strong church presence.