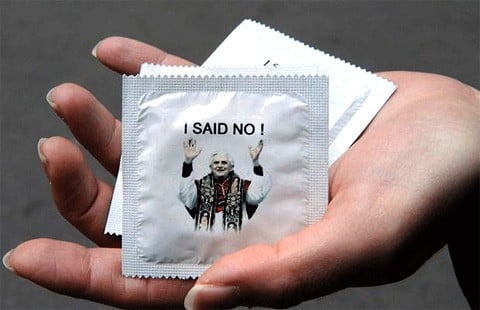 The Vatican on Tuesday confirmed and clarified remarks from a new book by Pope Benedict in which he suggested there was an appropriate use for condoms in curbing the spread of HIV and AIDS, specifically in the instance of prostitution.
The Rev. Federico Lombardi, the Vatican's spokesman, said that for Benedict, the use of condoms by people infected with H.I.V. could be "the first step of responsibility, of taking into consideration the risk to the life of the person with whom there are relations."
"Whether it's a man or woman or a transsexual," he added.
Though Benedict did not endorse the general use of condoms or change official church teaching — which still strongly opposes contraceptives — his words ricocheted around the globe, greeted with anger from some conservative Catholics and enthusiasm from clerics and health workers in Africa, where the AIDS problem is worst. The pope also considers the continent to be a major area of growth for the church.
The shift is being described as "seismic":
The Vatican still holds that condom use is immoral and that church doctrine forbidding artificial birth control remains unchanged. Still, the reassessment on condom use to help prevent disease carries profound significance, particularly in Africa where AIDS is rampant.
"By acknowledging that condoms help prevent the spread of HIV between people in sexual relationships, the pope has completely changed the Catholic discussion on condoms," said Martin, a liberal-leaning author of several books about spirituality and Catholic teaching.
The development came on a day when U.N. AIDS officials announced that the number of new HIV cases has fallen significantly – thanks to condom use – and a U.S. medical journal published a study showing that a daily pill could help prevent spread of the virus among gay men.
"This is a great day in the fight against AIDS … a major milestone," said Mitchell Warren, head of the AIDS Vaccine Advocacy Coalition,