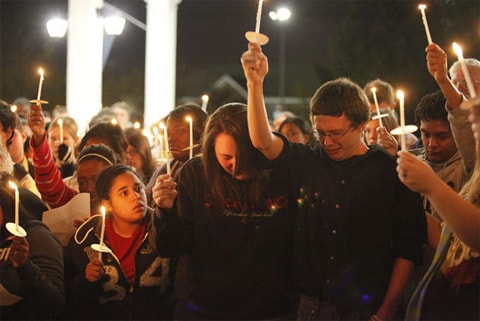 (image indy star)
A sad story from Louisville, Kentucky, where hundreds gathered for a vigil to remember missing 18-year-old Andrew Compton, a Sullivan University student from Carmel, Indiana, and show support for his family.
The Indy Star reports: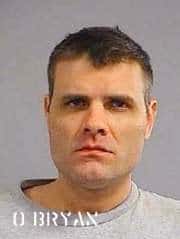 Compton, 18, was last seen Oct. 28, and a Louisville man is suspected of killing him while they had sex. Gregory M. O'Bryan, 40, Louisville, was arrested Tuesday and charged with murder, tampering with physical evidence and abuse of a corpse. Police searched for Compton's body Tuesday at the Rumpke Indiana Landfill in Medora, Ind. Police planned to continue the search today. 
Compton was reported missing after his roommate told his parents that he hadn't checked in for a couple of days, police said. Police initially questioned O'Bryan after determining that he'd exchanged e-mails with Compton, whom he met through an online dating service. In that initial interview, O'Bryan said he'd picked up Compton at Sullivan's Gardiner Point Residence Hall, bought alcohol and had sex with him at his apartment before Compton left, according to O'Bryan's arrest citation. But when police questioned O'Bryan a second time, he admitted that Compton had died while they were having sex, according to the arrest report. He said he then had sex with the corpse. 
O'Bryan also told police he dumped Compton's body in a garbage bin near his apartment, said Lt. Vince Robison, an assistant police chief. O'Bryan is being held in a Louisville jail, with bail set at $1 million. He is scheduled to be arraigned at 9 a.m. today.
Police are still not certain whether O'Bryan is lying: 
"Before Monday, O'Bryan had never been charged with so much as a traffic violation, according to Jefferson County court records. His neighbors said he never seemed to leave his apartment across from Bloom Elementary and sometimes would play the same technobeat music on his stereo for hours on end. Richard Moss, a neighbor, said that during cook-outs behind the apartment building, O'Bryan would brag about his conquests of men half his age."
Watch a report on the vigil by FOX59 Lousiville, AFTER THE JUMP…