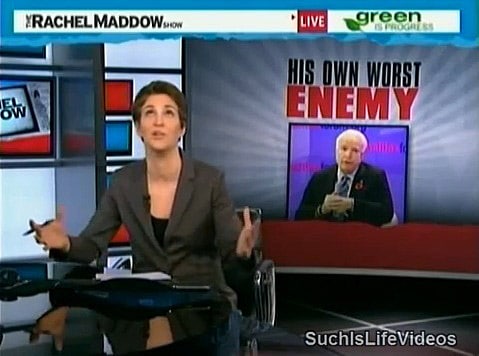 Rachel Maddow last night picked apart John McCain on every single policy issue including DADT.
Says Maddow (my transcript):
"There is not a major issue on which John McCain can be found now to have one identifiable position. Not a single one. John McCain's positions on every single major policy issue that he has faced since he has been in the Senate are now utterly incoherent…
…Senator John McCain's stances on legislation and important policy issues and principles are so fundamentally inconsistent as to render the phrase 'flip-flop' meaningless. And yet John McCain is still viewed as a Washington 'oracle'. As a guy you've got to win over. IF you do fail to win him over, don't worry, a new John McCain might come along any minute now and maybe you will have better luck with him.
Watch, AFTER THE JUMP…