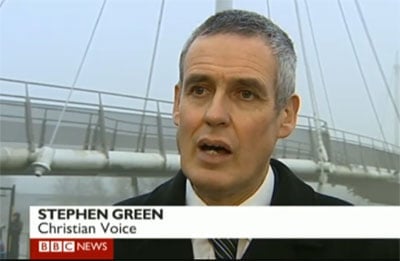 According to Pink News, the BBC apparently boradcast an interview with an anti-gay Christian fundamentalist during a segment focused on the birth of Elton John and David Furnish's baby. Stephen Green, head of 'Christian Voice, vocally supported Uganada's "kill the gays" bill.
Pink News reports: "The same night, the BBC broadcast a report by Lizo Mzimba on the birth of the child. With the introduction "not everyone is pleased to see such a high profile same sex couple start to raise a surrogate child", Mr Mzimba proceeded to interview Stephen Green, of right-wing group Christian Voice, without any warning that he is someone who has in the past supported the death penalty for gay men."
In an interview that was visibly edited together, Mr Green told the BBC: "This isn't just a designer baby for Sir Elton John, this is a designer accessory… [cut] Now it seems like money can buy him anything, and so he has entered into this peculiar arrangement…[cut] The baby is a product of it. A baby needs a mother and it seems an act of pure selfishness to deprive a baby of a mother."
Pink News also points out that the BBC was apparently unaware it had interviewed someone who had pursued a lawsuit against the broadcasting giant in the past: "Incredibly, Mr Green's own private blasphemy case against the BBC seems to have gone unnoticed by the BBC News at Six. In 2007, he attempted to bring a private prosecution against the director general of the BBC for the broadcast of 'Jerry Springer: The Opera'. Mr Green said that the character of Jesus telling the chat-show host Jerry Springer in the satire that he is a 'a little bit gay' was blasphemous."
If you wish to voice your concern over this, you can submit an online complaint here.
Just last year, the BBC faced heat from critics for posting an online poll asking if gays should face execution.