(via mother jones)
Yesterday I reported that Virginia Del. Bob Marshall (R-Prince William) wants to ban gays from serving in Virginia's National Guard and is drafting a bill for next year to do so.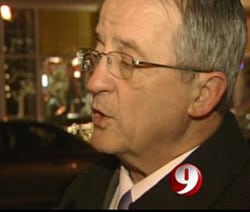 Said Marshall yesterday: "This policy will weaken military recruitment and retention, and will increase pressure for a military draft. After 232 years of prohibiting active, open homosexuals from enlisting in our military, President Obama and a majority in Congress are conducting a social experiment with our troops and our national security…In countries where religions and cultures find homosexual acts immoral, the Obama administration's repeal policy will work to the detriment of all American troops in securing local cooperation with our nation's foreign policy goals."
Marshall expanded on his remarks to D.C.'s WUSA: 
"If I needed a blood transfusion and the guy next to me had committed sodomy 14 times in the last month, I'd be worried."
Adding, "It's a distraction when I'm on the battlefield and have to concentrate on the enemy 600 yards away and I'm worried about this guy who's got eyes on me."
Watch, AFTER THE JUMP…