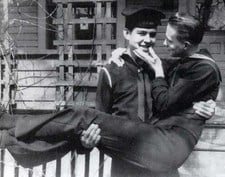 Despite intensified political debate over Don't Ask, Don't Tell, the number of discharges for openly gay and lesbian military personnel has been free falling since 2002, say Pentagon and independent analysts. And this year's tally may be the lowest since the DADT went into law in 1993.
"Overall, the number of discharges for 2010 is likely to be considerably lower than last year, when an estimated 428 military personnel were kicked out under the law," the LA Times reports. "As a result, some believe that even if Congress does not rescind the statute this year, the law's impact will continue to shrink."
The Pentagon also pointed out that no one has been fired since Obama in October declared senior Defense Department officials must sign off on DADT proceedings.
Even still, as long as Don't Ask, Don't Tell exists, gay and lesbian soldiers will be forced to fight under threat of removal. And who knows how a future president would implement the law?