Many local insiders think Foley actually has a shot at the slot. "It will be difficult for him, given his well-known story, and he'll have to overcome that," said Democratic Mayor Lois Frankel, who plans on supporting City Commissioner Jeri Muoio.
"On the other hand, Mark has a lot of friends and I still think there are a lot of people who think highly of him and can get past what happened."
A chance at winning, however, doesn't always mean someone with Foley's history should run, nor that they would receive support from past political allies, as Palm Beach County Republican Chairman Sid Dinerstein's remarks make clear: "Until the scandal, [Foley] had a very positive name. Having said that, if he runs, then the public will be forced to read the e-mails again. I'm just hoping that he would stay in private life and go about his own personal business."
But Foley, who was never charged with a crime and remains apologetic for his actions, seems confident in the public's willingness to forgive.
"People have shown generous mercy," the 56-year old told The Palm Beach Post. "I hope they forgive me. I hope they look at the totality of my record and look at me as a person who left here to serve in Washington."
He continued, "Yes, I regret my mistakes, believe me. And yes, I've learned from my mistakes. Hopefully, like in life, most everybody gets a second chance and is given one."
Reporter Andrew Abramson points out that a number of politicians have risen from shameful ashes: Washington DC Mayor Marion Berry, for example, won a reelection campaign after being caught smoking crack, and Louisiana Sen. David Vitter's prostitution scandal has done nothing to hurt his career.
In the realm of gay-related stories, California State Rep. Roy Ashburn turned a DUI arrest into a moment of truth, coming out of the closet and vowing to fight for equality after years of toeing his Republican party's conservative line.
Forgiveness indeed carries a lot of weight. We all need it at some point in our lives, and we all need to give it at other points. But Foley's public service situation differs. He was a U.S. Congressman who used his power in attempts to seduce underage pages. As far as unforgivable offenses go, that ranks pretty high.
Nothing physical ever came of Foley's electronic correspondences, and perhaps he never intended for anything to happen, but Foley's case acts as an unsettling backdrop nonetheless.
"With underage child type of issues, young pages in the employment of the Congress, this type of misbehavior should disqualify him," said Lynn University professor and frequent media commentator Robert P. Watson.
Despite such opposition, Foley, who has until December 27th to make a decision, stands strong, "If I put myself in the race, the voters will have to come up with the final determination, and that's the joy of an election. Even in my best day, I always had detractors, so this is nothing new."
What say you, reader? Should the public let bygones be bygones when it comes to Foley's past?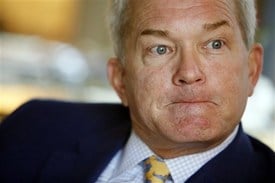 Former Rep. Mark Foley's political career imploded in 2006, when it was revealed that the Republican had sent sexually explicit emails and IMs to underage male congressional pages.
The charges were especially shocking considering Foley had previously voted against LGBT rights, and the lawmaker resigned in disgrace.
People assumed Foley's political days were behind him: he came out of the closet, became a real estate agent and enjoyed life in West Palm Beach with his boyfriend, a dermatologist.
Then, last year, Foley began becoming more ingrained in the local political scene, hosting both a radio show and fundraisers. It wasn't long until rumors began circulating that Foley planned to run for West Palm Beach mayor.
Now, as the filing deadline approaches, Foley appears ready to announce his bid.
Will voters forgive and forget Foley's past transgressions? And, more importantly, should they?