A measure that some, like Al Franken, are calling "fake net neutrality" is poised for a vote today by the FCC: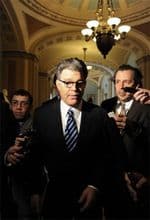 Net neutrality — which broadly speaking is an effort to ensure open access to Web sites and online services — is on the agenda of an F.C.C. meeting Tuesday in Washington. The F.C.C.'s chairman, Julius Genachowski, outlined a framework for net neutrality earlier this month, touching off a debate about the role of the government in regulating Internet access.
As it stands now, the order would prohibit the blocking of any Web sites, applications or devices by fixed-line broadband Internet providers like Comcast and EarthLink, essentially forbidding the providers from picking winners and losers on behalf of consumers, F.C.C. officials said Monday.
The F.C.C. officials also said that the order would broaden the government's enforcement powers over broadband. They spoke only on condition of anonymity ahead of Tuesday's meeting on the matter. The F.C.C. order has not been made public.
Said Franken:
"Maybe you like Google Maps. Well, tough. If the F.C.C. passes this weak rule, Verizon will be able to cut off access to the Google Maps app on your phone and force you to use their own mapping program, Verizon Navigator, even if it is not as good. And even if they charge money, when Google Maps is free…If corporations are allowed to prioritize content on the Internet, or they are allowed to block applications you access on your iPhone, there is nothing to prevent those same corporations from censoring political speech."