Alphabetical by Senator Name
Akaka (D-HI), Yea
Alexander (R-TN), Nay
Barrasso (R-WY), Nay
Baucus (D-MT), Yea
Bayh (D-IN), Yea
Begich (D-AK), Yea
Bennet (D-CO), Yea
Bennett (R-UT), Nay
Bingaman (D-NM), Yea
Bond (R-MO), Nay
Boxer (D-CA), Yea
Brown (D-OH), Yea
Brown (R-MA), Yea
Brownback (R-KS), Nay
Bunning (R-KY), Not Voting
Burr (R-NC), Yea
Cantwell (D-WA), Yea
Cardin (D-MD), Yea
Carper (D-DE), Yea
Casey (D-PA), Yea
Chambliss (R-GA), Nay
Coburn (R-OK), Nay
Cochran (R-MS), Nay
Collins (R-ME), Yea
Conrad (D-ND), Yea
Coons (D-DE), Yea
Corker (R-TN), Nay
Cornyn (R-TX), Nay
Crapo (R-ID), Nay
DeMint (R-SC), Nay
Dodd (D-CT), Yea
Dorgan (D-ND), Yea
Durbin (D-IL), Yea
Ensign (R-NV), Yea
Enzi (R-WY), Nay
Feingold (D-WI), Yea
Feinstein (D-CA), Yea
Franken (D-MN), Yea
Gillibrand (D-NY), Yea
Graham (R-SC), Nay
Grassley (R-IA), Nay
Gregg (R-NH), Not Voting
Hagan (D-NC), Yea
Harkin (D-IA), Yea
Hatch (R-UT), Not Voting
Hutchison (R-TX), Nay
Inhofe (R-OK), Nay
Inouye (D-HI), Yea
Isakson (R-GA), Nay
Johanns (R-NE), Nay
Johnson (D-SD), Yea
Kerry (D-MA), Yea
Kirk (R-IL), Yea
Klobuchar (D-MN), Yea
Kohl (D-WI), Yea
Kyl (R-AZ), Nay
Landrieu (D-LA), Yea
Lautenberg (D-NJ), Yea
Leahy (D-VT), Yea
LeMieux (R-FL), Nay
Levin (D-MI), Yea
Lieberman (ID-CT), Yea
Lincoln (D-AR), Yea
Lugar (R-IN), Nay
Manchin (D-WV), Not Voting
McCain (R-AZ), Nay
McCaskill (D-MO), Yea
McConnell (R-KY), Nay
Menendez (D-NJ), Yea
Merkley (D-OR), Yea
Mikulski (D-MD), Yea
Murkowski (R-AK), Yea
Murray (D-WA), Yea
Nelson (D-FL), Yea
Nelson (D-NE), Yea
Pryor (D-AR), Yea
Reed (D-RI), Yea
Reid (D-NV), Yea
Risch (R-ID), Nay
Roberts (R-KS), Nay
Rockefeller (D-WV), Yea
Sanders (I-VT), Yea
Schumer (D-NY), Yea
Sessions (R-AL), Nay
Shaheen (D-NH), Yea
Shelby (R-AL), Nay
Snowe (R-ME), Yea
Specter (D-PA), Yea
Stabenow (D-MI), Yea
Tester (D-MT), Yea
Thune (R-SD), Nay
Udall (D-CO), Yea
Udall (D-NM), Yea
Vitter (R-LA), Nay
Voinovich (R-OH), Yea
Warner (D-VA), Yea
Webb (D-VA), Yea
Whitehouse (D-RI), Yea
Wicker (R-MS), Nay
Wyden (D-OR), Yea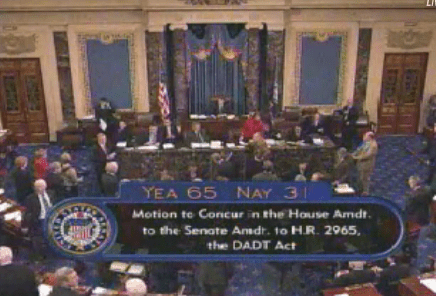 What an incredible day! The repeal has officially cleared the Senate.
All that was needed in this afternoon's vote was a simple majority. It easily passed with a vote of 65-31. Eight Republicans joined Democrats in the vote.
Congratulations to everyone who helped make this historic day happen!
Press Secretary Robert Gibbs just sent out the following tweet explaining that President Obama will sign the repeal into law sometime next week.

OutServe's response: "OutServe looks forward to the day that repeal of this law is signed by our Commander in Chief and the certification process is complete so we can all begin to serve openly and honestly. Certification must take place as soon as possible as gay and lesbian service members will be in limbo over the next few months.  As the troops will interpret today's actions as an end in the policy, only a delay in certification will increase the lack of clarity among the ranks."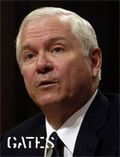 Defense Secretary Robert Gates: ""I welcome today's vote by the Senate clearing the way for a legislative repeal of the 'Don't Ask Don't Tell' law. Once this legislation is signed into law by the President, the Department of Defense will immediately proceed with the planning necessary to carry out this change carefully and methodically, but purposefully.  This effort will be led by Dr. Clifford Stanley, Under Secretary of Defense for Personnel and Readiness and himself a retired Marine Corps major general and infantry officer. The legislation provides that repeal will take effect once the President, the Secretary of Defense and the Chairman of the Joint Chiefs of Staff certify that implementation of the new policies and regulations written by the Department is consistent with the standards of military readiness, military effectiveness, unit cohesion, and recruiting and retention of the Armed Forces.  As I have stated before, I will approach this process deliberately and will make such certification only after careful consultation with the military service chiefs and our combatant commanders and when I am satisfied that those conditions have been met for all the Services, commands and units. It is therefore important that our men and women in uniform understand that while today's historic vote means that this policy will change, the implementation and certification process will take an additional period of time.  In the meantime, the current law and policy will remain in effect."
The National Gay and Lesbian Task Force Action Fund: "Today's vote is the critical strike against 'Don't Ask, Don't Tell' and toward creating a path that could end in lesbian, gay and bisexual people being able to serve openly, honestly, and to great benefit of our country. We celebrate this important victory and thank all the senators who supported fairness today. We are on the brink of making history. An end to 'Don't Ask, Don't Tell' cannot happen soon enough. This arcane and costly policy has destroyed thousands of careers, wasted much-needed dollars, and failed to enhance our nation's security. We are now poised to end this travesty once and for all, as the Senate today joined with the three-quarters of Americans who already believe 'Don't Ask, Don't Tell' must go. People from every background, every faith, every community across the country know that qualified, patriotic Americans willing to risk their lives by serving in the military should be able to do so, free of discrimination. When full repeal of 'Don't Ask, Don't Tell' is implemented, our nation will honor the principles of fairness and justice that it holds so dearly. We urge President Obama to act swiftly to sign this historic bill."
United States Navy Admiral Mike Mullen: "I am pleased to see the Congress vote to repeal the law governing 'Don't Ask, Don't Tell.' Handling this through legislation preserves the military's prerogative to implement change in a responsible, deliberate manner. More critically, it is the right thing to do. No longer will able men and women who want to serve and sacrifice for their country have to sacrifice their integrity to do so. We will be a better military as a result. I look forward to working with Secretary Gates and the Service chiefs as we set about the task of preparing and certifying the joint force to implement the new law. And I am committed to making sure that process is well-led, maintains our combat readiness and upholds our high standards."
Family Research Council: "Today is a tragic day for our armed forces. The American military exists for only one purpose – to fight and win wars. Yet it has now been hijacked and turned into a tool for imposing on the country a radical social agenda. This may advance the cause of reshaping social attitudes regarding human sexuality, but it will only do harm to the military's ability to fulfill its mission."
Joe Lieberman said after the vote: "We righted a wrong. Today we've done justice."
John McCain: "Today's a very sad day. They will do what is asked of them but don't think there won't be a great cost."
Joe Manchin (W. Va ), was the only Democratic Senator to miss both of today's historic votes though he's made it pretty clear how he feels about DADT. So where was he today? According to his spokesperson, he couldn't be present because he had "planned a holiday gathering over a year ago with all their children and grandchildren as they will not all be together on Christmas Day." The rep adds: "While he regrets missing the votes, it was a family obligation that he just could not break. However, he has been clear on where he stands on the issues."
Complete list of how the senators voted, AFTER THE JUMP.