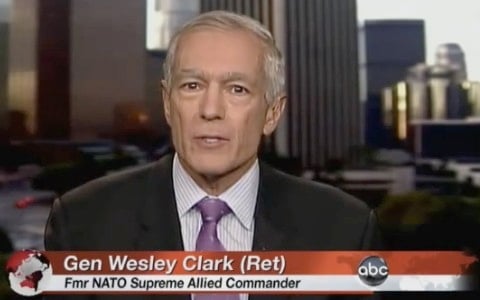 Christiane Amanpour devoted most of ABC's This Week today to the seemingly endless debate over Don't Ask, Don't Tell, and hosted pundits and professionals from both sides of the repeal dispute.
Among them was former NATO commander Gen. Wesley Clark, a supporter of repeal who contends DADT unfairly thrusts service men and women into the "culture war crosshairs."
"What we need to do is take the military out of the crosshairs of the culture wars," said Clark. "Let this policy be decided and give the men and women who are leading the armed forces the opportunity to do their job, get the policy implemented." Indeed: there are bigger wars to fight than those surrounding people's private love lives.
Clark also said he agrees with the Chairman of the Joint Chiefs of Staff, Adm. Mike Mullen, and the group's Vice Chairman, Gen. James Cartwright: wartime is the right time for repeal. "I do agree with the point that the chairman and the vice chairman made," explained Clark. "If the military's focused on war, this is the ideal time to do it, because we're talking about building teamwork around a common purpose."
Meanwhile, on the opposing side of the divide, Elaine Donnelly from the conservative Center for Military Readiness, harped on statistics suggesting 67 percent of combat Marines think a repeal would hurt their unit's effectiveness.
"For anyone to say that it's OK to make military life more difficult and more dangerous, I don't think that's really fair, because it's like putting stones in someone's rucksack," she insisted.
Here are links part one and part two of the discussion, which also included Sergeant First Class Stacy Vasquez, who was discharged under DADT, the Log Cabin Republicans' Clarke Cooper, Tammy Schultz from the Marine Corp War College, as well as Bob Maginnis, a retired Army Lt. Col. who now works for the Family Research Council.
Not surprisingly, Maginnis echoed Donnelly's "burden" argument, while also trying to shift blame to Bill Clinton, DADT's signatory president.
Of course a right winger on the wrong side of history would try to make "Slick Willy" the center of attention, rather than the cold, hard facts, as reported from our troops themselves: repeal would have little to no on unit cohesiveness.