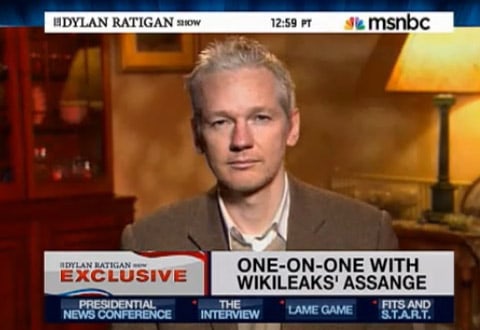 Wikileaks founder Julian Assange has been offered a deal to write his memoirs:
"WikiLeaks founder Julian Assange has agreed to write a memoir, U.S. publisher Random House confirmed, receiving an advance that Mr. Assange said totals more than $1 million for U.S. and U.K. rights as he seeks to pay mounting legal bills and keep the document-leaking website in the black. Random House, a unit of Germany's Bertelsmann AG, expects the manuscript to be delivered at some point in 2011 but doesn't yet have a timetable for publication, Paul Bogaards, a spokesman for the U.S. publisher, said Sunday…In an interview published Sunday with U.K. newspaper the Times, Mr. Assange said he would receive £325,000 ($502,000) from U.K. publisher Canongate Books Ltd. and $800,000 from U.S. publishing house Alfred A. Knopf, itself a unit of Random House, for writing an autobiography."
Also, I didn't get a chance before the holiday to post Cenk Uygur's 12/22 interview with Assange. In the interview, Assange goes after politiicians and the media, FOX News in particular:
"They believe that if they sell us out, if they say, well he's not really a journalist, they can have the Washington authorities target us and destroy us and somehow steer clear of the crossfire..but I have a message to them: they're going to be next."
Watch, AFTER THE JUMP…