Earlier this year, lesbian golfer Katie Brenny was hired to coach the women's golf team at the University of Minnesota. She claims that she was demoted to desk duty after her boss, the school's Director of Golf, John Harris, found out that she is a lesbian. It's unclear exactly how Harris learned of Brenny's homosexuality.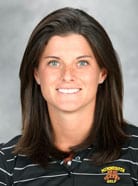 Golfweek reports:
Brenny, 30, alleges that Harris would not allow her to travel with the team or instruct players, effectively relegating her to a desk job, once he found out that she is a lesbian, Mark said. Asked whether there was any truth to Brenny's claim, Harris told Golfweek, "No,'' before referring questions to university attorneys. Messages left by Golfweek with the office of Mark Rotenberg, Minnesota's general counsel, were not immediately returned.

Brenny did not accompany the women's team to any of its four events last fall. The Gophers, ranked No. 42 in the Golfweek/Sagarin College Rankings, were coached by Ernie Rose, Harris' son-in-law and the Gophers' director of instruction. Rose does not have a college degree, which is required by Minnesota for a head coaching position.
According to the Star Tribune, the two sides are currently discussing a financial settlement, but if negotiations fall through, Brenny's lawyer will consider a discrimination lawsuit due to the hostile work environment in which she was exposed. He's said: "I am prepared to support the allegations with fact," Chance Mark said. "We've got enough evidence."