Alice Hoagland, the mother of late gay 9/11 hero Mark Bingham, who was eulogized by Senator John McCain at his memorial, pleads with McCain to reconsider his "very regrettable" opposition to DADT.
Salon reports: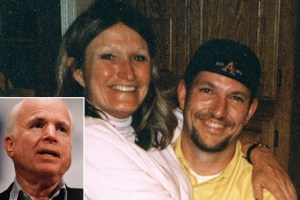 Bingham, a public relations executive and rugby enthusiast, had supported McCain's presidential 2000 campaign and kept a picture of himself with the senator displayed in his San Francisco office. Shortly after 9/11, a fatigued McCain made the trip to Berkeley to attend Bingham's memorial service, where he delivered a tearful eulogy that garnered headlines and praise from the gay community.
Noting that Flight 93 seemed bound for the Capitol, McCain said, "I may very well owe my life to Mark and the others who summoned the enormous courage and love necessary to deny those depraved, hateful men their terrible triumph."
Said Hoagland: "I'd hope that he'd take counsel with his wife and reconsider and realize that it's a new day."
More at Salon.
WATCH the Senate Armed Services Committee hearing on DADT with the Service Chiefs live NOW – HERE.