Barring a Bale-focused scandal (possible, right?), it's hard to imagine the Academy's acting branch passing up this opportunity to award the sometimes prickly thespian for his rich body of work and insane commitment to craft; let this be the last time he risks his health to cut a skeletal figure onscreen. Who knew that an addict loser would become his most likeable character since maybe his flyboy in Spielberg's Empire of the Sun. He even sings a bar or two which should make Newsies fans happy. Bale doesn't normally make the type of films the Academy generally goes for but he finally has. What's more, The Fighter, is hugely enjoyable – your mileage may vary but I'm generally allergic to both inspirational sports movies and biopics and I loved it anyway. Apart from Wahlberg whose character is a bit of a cypher, the movie has great performances and a funky sense of humor. (I can't wait to hear people quoting Melissa Leo's takedown of Amy Adams "I heard you're an MTV girl!".)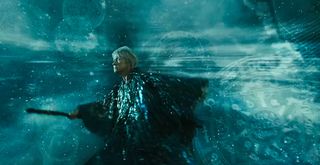 Elsewhere in movie theaters Julie Taymor (Across the Universe) brings her visionary genius (or visual tourettes depending on your point of view) to Shakespeare's THE TEMPEST with Helen Mirren in the Prospero role, now renamed Prospera. Taymor's Tempest is such an inconsistent tonal mess that you may have more fun reading the continual media coverage of her seeemingly doomed Broadway venture SPIDER-MAN: TURN OFF THE DARK, which is still in preview performances.
Finally, Angelina Jolie leads Johnny Depp into danger in THE TOURIST. Haven't people learned by now that Angelina is trouble? If she's coming on to you in a movie, you're already a human target.
BONUS SCENES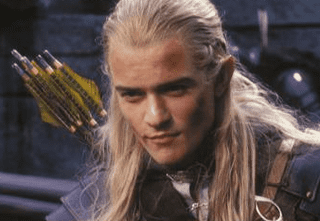 With Peter Jackson prepping the two part film based on The Hobbit, he's bringing the Rings characters back… even if they didn't appear in the original book. Cate Blanchett will reprise Galadriel and now there's talk that Orlando Bloom will return as blonde, pointy-eared Legolas. Do you have any desire to return to Middle Earth?

Have you seen The New York Times 1 minute silent movie series with today's stars playing cinematic types? It's quite amusing and mercifully brief. You've already seen James Franco making out with himself but doesn't Tilda Swinton do a great Falconetti? Strange mystery of this project: Best Actress hopeful Annette Bening has a great photo in the accompanying slide slow, but she does not appear in the 1 minute films. Curious.

Ryan Gosling addresses the "F*** Yeah, Ryan Gosling" internet meme for MTV. So adorable. So meta.

In other Gosling news, he's both cross-dressing and stripping to his skivvies [NSFW] in the bizarre sort-of-true mystery All Good Things, now in select theaters. Kirsten Dunst is excellent as his abused wife but the film is not up to her level. Meanwhile, the popular actor is working the campaign trail for an Oscar nomination of his own for Blue Valentine, which opens soon. Hey girl, he deserves it. The latter film, a superb marital drama co-starring Michelle Williams, recently won its appeal with the MPAA which lifted the box office poison NC-17 rating for a simple R.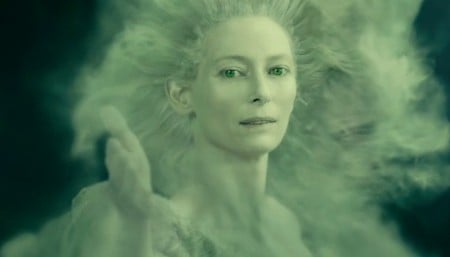 Tilda Swinton reaches for another Narnia paycheck


…lives for the the tail end of each year. That's when Oscar buzz wags the film dog. He blogs daily at the Film Experience. Follow him on Twitter @nathanielr.
NOW PLAYING
If the last Narnia film is any indication, The White Witch's appearance in THE CHRONICLES OF NARNIA: THE VOYAGE OF THE DAWN TREADER will be the sum total of her screentime in the movie. We see Tilda Swinton floating in the sky like the goddess she is, hand lifted and opened. Waiting for her paycheck perhaps?  Someone has to foot the bill for her film festival globe trotting, avant garde fashions, wondrous cinephile activism and her preference for brilliant but uncommercial cinema last year's Julia and this year's I Am Love (now on DVD – don't miss it). For this reason, and this reason alone, we salute the utterly bland Narnia films. Keep Tilda in the black.
Also Opening: Crackhead Dicky Eklund (Christian Bale) trains half brother Micky Ward (Mark Wahlberg) in THE FIGHTER. Wahlberg's Micky may be the champ within the movie but Bale's Dicky is the one going home with a certain naked gold man next February.
MORE AFTER THE JUMP…