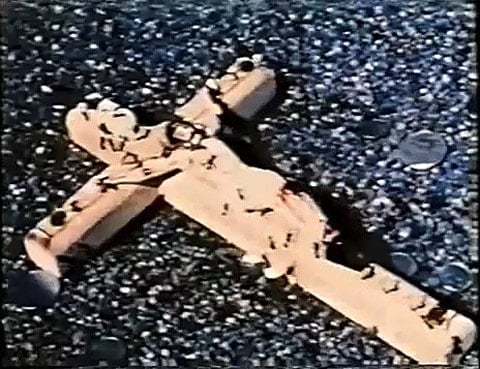 The Washington Post reports on some shameful censorship going on at the National Portrait Gallery with regard to their new exhibit Hide/Seek: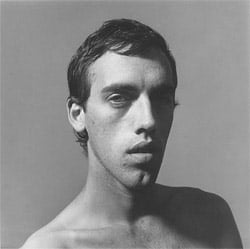 Today, after a few hours of pressure from the Catholic League and various conservatives, it decided to remove a video by David Wojnarowicz (pictured, right, in a portrait by Peter Hujar), a gay artist who died from AIDS-related illness in 1992. As part of "Hide/Seek," the gallery was showing a four-minute excerpt from a 1987 piece titled "A Fire in My Belly," made in honor of Peter Hujar, an artist-colleague and lover of Wojnarowicz who had died of AIDS complications in 1987. And for 11 seconds of that meandering, stream-of-consciousness work (the full version is 30 minutes long) a crucifix appears onscreen with ants crawling on it. It seems such an inconsequential part of the total video that neither I nor anyone I've spoken to who saw the work remembered it at all.
But that is the portion of the video that the Catholic League has decried as "designed to insult and inflict injury and assault the sensibilities of Christians," and described as "hate speech" – despite the artist's own hopes that the passage would speak to the suffering of his dead friend. The irony is that Wojnarowicz's reading of his piece puts it smack in the middle of the great tradition of using images of Christ to speak about the suffering of all mankind. There is a long, respectable history of showing hideously grisly images of Jesus – 17th-century sculptures in the National Gallery's recent show of Spanish sacred art could not have been more gory or distressing – and Wojnarowicz's video is nothing more than a relatively tepid reworking of that imagery, in modern terms.
Until Tuesday afternoon, museum staff, under Director Martin E. Sullivan, believed that "Fire" was interesting art that made important points. And now it looks as though they're somehow saying that they were wrong about that, and that it really was unfit to be seen or shown, after all.
Really pathetic.
Watch the video, AFTER THE JUMP…
Hide/Seek has been very well received. Tyler Green at Modern Art Notes called it one of the best exhibitions of the year.