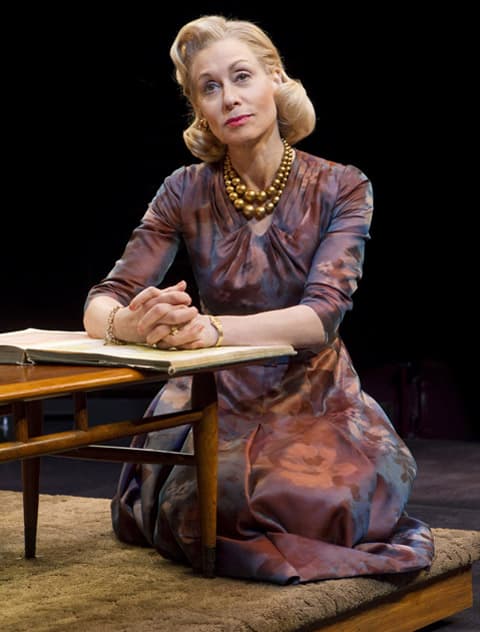 Kevin Sessums writes reviews and interviews for Towleroad. To mark World AIDS Day, Kevin interviewed actress and activist Judith Light, now starring in 'Lombardi' on Broadway, about that show, and her relationship with the LGBT ('queer') community, and AIDS activism.
Judith Light is currently starring on Broadway at the Circle in the Square Theatre in Lombardi as the legendary Green Bay Packers coach Vince Lombardi's wife Marie. Her co-star in the title role is Lombardi look-alike Dan Lauria. Others in the cast are Keith Nobbs, as the neophyte journalist who has come to Green Bay to write a profile of the Lombardis for Look magazine, as well as Bill Dawes, Robert Christopher Riley, and Chris Sullivan as, respectively, Packers' stars Paul Hornung, Dave Robinson, and Jim Taylor.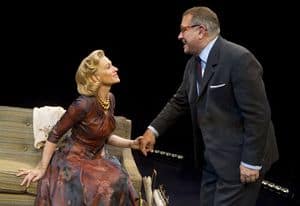 Light, who won two daytime Emmy Awards for Best Actress for her role in the soap opera One Life to Live and went on to star as the head of the household in the ABC sitcom Who's the Boss among many other television appearances, is giving a performance in Lombardi that is lovely to behold. Though she has become known for the vast range of her work on television, she is a stage creature at heart. And there is so much heart in her performance of Marie Lombardi. There is not a false moment in her performance, a wasted gesture. With the kind of strategic aplomb  that was indeed the secret to Vince Lombardi's own success as a coach, she becomes this woman who yoked herself to her husband's life in football and yet would not yield to him any field advantage in their married life. Fortified by cocktails and fur coats, she grappled with life in Green Bay. Light lets the audience see the sadness concealed beneath the woman's fierce dignity as the town's provincialism proves too much for her to bear even as she keeps that same sadness hidden from her husband. It is the  true test of a great theatre actress to be able to accomplish such a layered emotional to-and-fro while keeping the equilibrium of a stage performance. And Light is giving one of the great stage performances of the last few Broadway seasons. Do not miss it.
In fact, on December 8th at 8 p.m. there is a "Boys Night at Lombardi" after which there will be a talkback with Light and then a reception to be held at the Ritz Bar and Lounge. Tickets are $65 – normally $115 – and further information can be found at lombardibroadway/boysnight.php.
Light and I talked a lot about the Lombardis and football and how she goes about building a character when I met with her at Circle in the Square before a Saturday matinee. But her true passion began to surface when our talk turned to her help in the fight for gay rights and the history of AIDS within the gay community and how the epidemic proved to be the community's shining moment as well as its most tragic.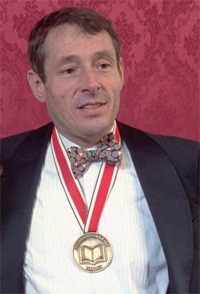 In fact, as inspiration, Light keeps a picture in her dressing room of man who was once her dearest friend, the writer and activist Paul Monette, who died of AIDS in 1995. His memoir Becoming a Man: Half a Life's Story won the National Book Award for nonfiction in 1992, a kind of coming-of-age itself in the history of gay and lesbian literature. Another of his books, Borrowed Time: An AIDS Memoir, concerns his lover Roger Horwitz's own diagnosis of AIDS and subsequent death. Both poetic and terrifying, it is one the most important early accounts of what gay life was like — the cruel day-in-and-day-out every dayness of it —  during the epidemic. 
On this World AIDS Day in 2010 I am haunted by the words of Monette from his essay, "3275," which was included in his collection Last Watch of the Night: Essays Too Personal and Otherwise. "3275" referred to the number of Horwitz's gravesite and was where Monette himself would soon be buried beside him. The last words of that essay were a call to arms:
 "We queers of Revelation Hill, tucking our skirts about us so as not to touch our Mormon neighbors, died of the greed of power, because we were expendable.  If you mean to visit any of us, it had better be to make you strong to fight that power. Take your languor and easy tears somewhere else. Above all, don't pretty us up. Tell yourself: None of this had to happen. And then go make it stop with whatever breath you have left. Grief is a sword, or it is nothing."
In honor of Monette — and in his memory — here is an excerpt from my conversation with Judith Light, whose own fierce dignity does not hide her sadness as Marie Lombardi's did, but — as a tribute to her departed friend — encompasses it so it can be transcended.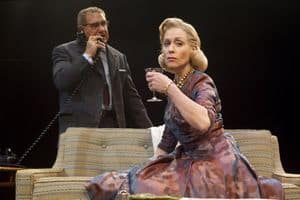 KEVIN SESSUMS: There was a staunch maternalism to Marie Lombardi. She had it for her own children. For her husband's players.  For her husband himself. You've never had children. Is finding that kind of maternalism difficult for you or is it just part of an actress's work?
JUDITH LIGHT: It's not just an actress's work. I feel in my body incredibly maternal. But it was literally an act of choice that my husband and I made not to have children. And we said, at the time, that we thought it would be incredibly selfish of us to do that because of the nature of our work and primarily neither of us had the passion to do that. Yet there is a tapestry of mothering that is written in this part that I find comes very naturally to me. I have played many mothers in the past and they are all very different women because they have such different relationships with their children.
KS: You played Ryan White's mother. 
JL: I did. She was on the set with us. It was before Ryan died. He was on the set too. He was in the movie as well.  That was an extraordinary  time. I have recently gotten back in touch with Elton John and Scott Campbell who runs his foundation. We just did an event together in honor of the 20th anniversary of Ryan's death in Indianapolis. It was stunning to realize that it has been 20 years and that the sorrow of it is still so present. Of course, I have remained close friends with Jeanne, his mother, for all this time. I don't even know how to describe what Elton did for that night.  He talked about his own sobriety which had happened because of his being connected to Ryan. He's now been 20 years sober. It kind of took our breaths away.
KS: Well, maybe he was doing a bit of penance also for having performed at Rush Limbaugh's wedding.
JL: I think by performing at that wedding he was trying to express to people what it means to reach across a barrier to create a partnership in a way that people may not understand right now but would eventually come to understand. Elton is all about building bridges and making those choices. Because then you can go to someone who has become a part of your life and say, "Why wouldn't you celebrate my own marriage?  I'm here to celebrate yours." 
KS: Do you think that all of your political activism and charity work — which is so centered on lesbians and bisexuals and gays and transexuals … 
JL: … and the queer and the questioning ….  I know, I know. Oh, honey, I just like queer. Let's just say queer. Queer is so great.
KS: Okay – all of your queer stuff you're involved in — is that where your own maternalism can be expressed? Why have you chosen the queer community as the focus for your activism?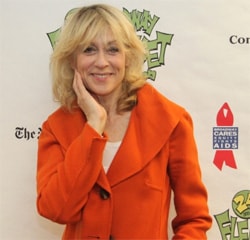 JL: Maybe some of it is maternal but it is more about family in a more general sense. And about inspiration. And courage. And justice. I don't understand why everyone wouldn't love and accept everyone. Now I hope that doesn't sound like Pollyanna but I really truly mean that. I don't get it. I think we are all here to offer each other support with graciousness and generosity to get us all through this life. We are here to give each other as much joy as possible.
From the time I was a little girl when I went to a performing arts camp in New Hope, Pennsylvania, I have been supported by the gay community. The performers who would come down from New York to be our teachers were mostly gay and I knew then that they were there to watch out for me. Then as time went on I developed this whole theatre family which was mostly gay.  My managers — who have been together as a couple for 30 years — are gay. And suddenly back during the height of the AIDS crisis, all my friends started dying and two presidents of the United States were not saying anything about it and you better believe if it were a good-ole-boys-white-boy disease it would have all been handled in about five seconds. We talk about this country being a country of compassion and I see how my gay family is being treated! Well, I had to take a stand. I had to speak up. I had to.
Then I  see this community — this gay family of mine — come up to a whole other level of dignity in the way that they are dealing with the epidemic. Gay men back then began to come out and stand up in the face of such divisiveness and vitriol and started to rise like the phoenix from the ashes. God! It still makes me tear up.
And I thought, you people are our leaders. You are teaching the straight community how to have courage. My manager Herb says everybody has something to come out about. We straight people just have to figure out what it is for us.  Because when you do you have a kind of freedom in your life — a kind of authenticity — you can't have otherwise.  When I look at the gay community I say to them,  "Please, please please — know who you are and what you mean to people like me."  That's what I desperately want this community to understand. It's not about — oh, let me help you.  It's you who inspire us. It's you who are are the leaders. It's you who show us the way. When our friends were dying they were fighting and storming the FDA for drugs  and — this is the paradox and the dichotomy — they were at the same time surrendering and filled with grace. They were living like Carlos Castaneda talks about — with death on their shoulders. And they were magnificent. This is so important to me — I want the young people in this community to know their history, to know that they come from a community of heroes.
KS: When I meet young gay guys now and I mention ACT-UP so many of them don't know what I'm talking about. It sort of breaks my heart. I don't even explain it anymore. I tell them to go do their homework. Google it for Godsakes
JL: I know. It's so frustrating. I do a lot of work with the Point Foundation that gives scholarships to GLBT students. It is an inter-generational organization. That is an important aspect of it for it is incumbent upon older people like you and me to find the ways to sit down with them and tell them what their history is and who we as their family are. I really don't think these young gay people would be killing themselves if they knew the magnificence of their history and knew they had this family of other gay people out in the world. It is incumbent upon us to instill in them the desire to know that.
KS: What do you think about famous actors and actresses who refuse to come out?
JL: Oh boy, that's a tricky thing. I'm always of two minds about it. I know that it is a personal choice and it is a about a person's own timing about when they do it and how it is done. But I also know that the value of their doing it is of importance to the larger community — and, more important, to their own personal freedom and the way they literally walk and live in the world. The more people who do it the easier it becomes. And yet I do see what happens to people.  This is still a land of problems and stigmas and hatreds. 
KS: Have you ever worried that your own activism and being so outspoken about gay issues would affect your career?  Or have you thought of your fame as something to wield as you fight for the causes you believe in?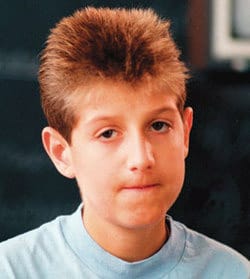 JL:  That's interesting.  I've never even thought about it. I do know that I get letters from mothers in the middle of this country who don't live in the bigger cities where queer issues get attention and they thank me for my activism for their child and how my being out there as a famous person has helped them see the issue in a different way. It has helped them come to grips with having a gay or lesbian child in a whole other way. I did know that if I didn't use my celebrity in some way once I got famous that I would feel as if I were wasting my life. Now, don't get me wrong,  the perks of fame are nice and I don't discount them for a minute. But what really gives me a deep sense of gratification and a sense of a life well lived is that I have been able to use it for something that is much bigger than myself.  
The moment it all gelled for me was when I was filming The Ryan White Story and I heard Ryan being interviewed on the set. The woman interviewing him asked him what it was like for him when people found out he had AIDS and he said, "Well, it was pretty hard. People were really mean to me. They would spit at me sometimes and call me a faggot." I stood there listening to him and I had an epiphany. I said to myself, "That is everything right there in that statement. That is Ryan. And that is my friends. And that is my family. And that is this country." 
And I knew in that moment that I had to get involved and start talking about it all and this was the way I could use my fame for something other than just myself.  At that time, very few people were out there talking about it. I got lots and lots of letters from people telling me they would never watch me again in anything because I was making the Ryan White movie. And I thought, you know what? Great! Good riddance. So in a way that was my coming out.
And with my activism I began to be connected to others in a way I had never been before  in the midst of all that death and disease.  We were all so intimate with each other.  That's the only way I can put it. There was a  profound intimacy that accompanied that time.  And we don't have that now. We don't have it.
KS: I know it sounds odd to say it, but I miss that time. I don't miss the death and disease and the fear and the sorrow but I do miss how alive one had to feel to get through it all. Or maybe I'm just missing my youth. 
JL: I know what you're saying. I was talking to my friend David Mixner about just this the other night. I mean where are the seminars or even the soirees where gay people can meet in an inter-generational setting? Why can't gay centers once a month have older people come in and hold discussions with the younger generation about each other. I mean, when Mixner and Cleve Jones called for the March on Washington last year it was the young people through their social media networks who got the hundreds of thousands of people there. They are out there. They want it. They are ready.   We just need to find ways to be there for them and inform them of what has gone before.
KS: David France is working on a documentary about ACT-UP and he's still in the process of raising the money for it. I think it's important  that his film gets made. This next generation needs to know — needs to see — that there were warriors in their cultural and political ancestry. It really was as if we were in the middle of a war. There was so much courage and so many casualties.
JL:  And so much love. This play is about love too and a heightened kind of camaraderie. In that last speech of Vince Lombardi's he says that anybody can love something that is beautiful and bright and glamorous but it takes a special person to love something that is not special and that is unknown. There might be somebody who is playing next to you, he says, and you've got to love that person because if you love that person you will lift them up and make them the best person that they can possibly be.  When I listen to those words at the end of this play, I think of the gay community and how they rose up against all the odds during the AIDS epidemic and powerfully loved each other. They  took care of their own. And the lesbians said, okay, you guys, we are connected to you because you are our family. Life was lived at another level back then. In the midst of the sorrow and devastation, that was the beauty.
('Lombardi' photographs by Joan Marcus)