Target-supported GOP candidate Tom Emmer is expected to concede the Minnesota governor's race to Democrat Mark Dayton this morning.
The Hill reports: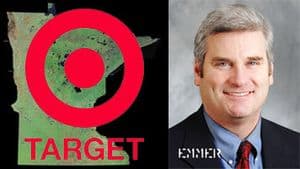 "The Minnesota governor's race will conclude Wednesday morning with the concession of Republican Tom Emmer, according to reports. On Tuesday, Emmer's campaign withdrew almost all its remaining ballot challenges, paving the way for Democrat Mark Dayton to declare victory. Dayton, a former senator, currently leads Emmer by about 9,000 votes out of 2.1 million cast. A recount had been under way since the Nov. 2 election but didn't erode the Democrat's lead."
Emmer is expected to concede at an 11:30 am ET press conference.
You may recall Emmer in the headlines over the summer after Target Corp. and Best Buy donated large sums of money to MN Forward, a conservative and anti-gay PAC helping to elect Emmer.
To follow news on Minnesota, check out our HUB. And "LIKE" it to follow updates on Facebook.