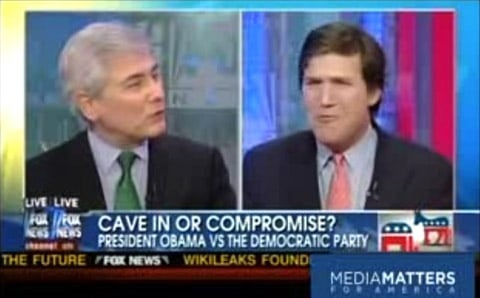 FOX & Friends hosts Tucker Carlson and Brian Kilmeade mocked 'DADT' repeal this morning in a conversation with former DNC finance chair Robert Zimmerman, Media Matters reports:
When  Zimmerman asked Carlson what his excuse was for "not moving" on a repeal of DADT, Carlson explained that he is not opposed to repeal, but views it as "totally a sideshow issue" and a "stupid issue." Carlson also mocked the idea that it was "central to American national security."
Zimmerman explained that the US has a "shortage of Arabic translators," and that many have been dismissed under DADT, prompting Carlson to say "spare me."
Kilmeade, confused as always, chimed in with the question "if we repeal Don't Ask, Don't Tell, we'll have more Arabic translators? Most of them are gay?"
"Most translators are gay," Carlson joked, "and flamboyantly so." 
Watch, AFTER THE JUMP…
To follow news on DADT, check out our HUB. And "LIKE" it to follow updates on Facebook.