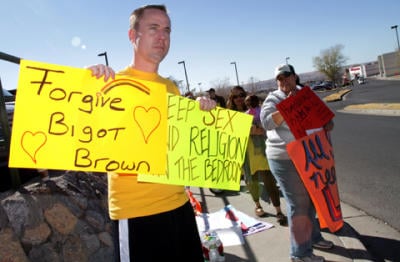 Pastor Tom Brown, who claims that he can cure homosexuality, was the driving force behind last year's ridiculous voter-approved ordinance in El Paso that would take away health benefits of gay and unwed domestic partners of city employees. Last week, a judge ruled that EL Paso can't deny health benefits to any city employee calling it "unconstitutional." A final ruling is expected later this year.
Gay rights protesters, including several gay Christians, took to the Barnes and Noble location in that city to demonstrate and urge a boycott of the store due to an appearance by Brown who was there to sign copies of his new book.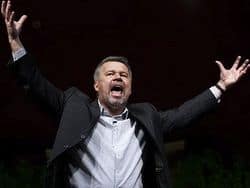 The El Paso Times reports: "'He takes the teachings from the Bible and misconstrues them,' said Daniel Rollings, a member of El Paso for Equality. 'I'm openly gay and a Christian myself, and Christ does not teach hate. Tom Brown uses the Old Testament verse and Jewish cleanliness laws to make things about how one can be healed of homosexuality,' Rollings said. Brown said he was surprised by the negative reaction his book-signing received from members of the lesbian, gay, bisexual and transgender community."
Surprised? Taking away much-needed health benefits from gays and lesbians and calling homosexuality a "curable psychological illness" is more than enough for him to garner a negative impression from anyone.
Watch the El Paso Times interview Brown at the book signing (as well as several peaceful protesters, including a gay Christian man who says that "Christ's message was love. Never did Christ teach hate"), AFTER THE JUMP.