Despite the advancement of a bill that would prohibit Wyoming from recognizing same-sex marriages performed elsewhere, and a state law defining marriage as between a man and a woman, could there be support for a civil union law?
The Star Tribune seems to think so: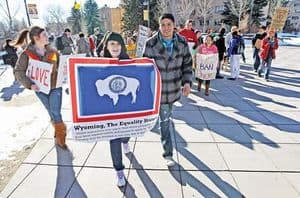 Many legislators who voted earlier this week in favor of House Bill 74, which prohibits recognition of same-sex marriages from out of state, have said they see civil unions as an acceptable compromise. And while Gov. Matt Mead said he believes marriage should only be between a man and a woman, he wouldn't rule out supporting civil union legislation should it reach his desk.
"I'm getting a stronger sense that civil unions will pass," said state Rep. Dan Zwonitzer, R-Cheyenne, a supporter of gay marriage.
This week, the House Judiciary Committee will take up legislation to establish civil unions in Wyoming that would give same-sex couples in the state the same legal rights and benefits as married couples. The bill, House Bill 150, appears to have the votes to pass the Judiciary Committee.
State Rep. Cathy Connolly, the Laramie Democrat who's sponsoring HB150, said she's "very optimistic" the bill will pass the full House, as many gay marriage opponents have said they support civil unions.
On Friday, the Wyoming Senate Judiciary Committee approved legislation by a 3-2 vote that would ban same-sex marriage in the state. However, before the vote they amended the legislation to potentially allow for civil unions.
Protests took place on Friday and Saturday, objecting to HB 74.