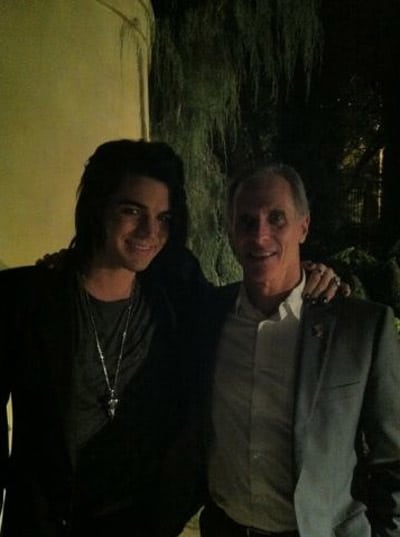 Adam Lambert and Republican presidential hopeful and activist Fred Karger, in a photo he tweeted from the event.
Elton John's concert last night, in which he played 16 songs for more than 90 minutes, raised $3 million for the American Foundation for Equal Rights, the group challenging Proposition 8 in federal court.
The NYT has a full report: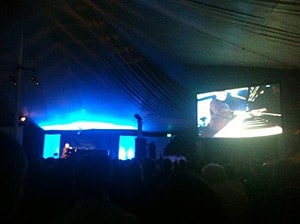 The makeshift concert hall for Sir John was an elaborate tent, lined with curtains and backlit with soft lighting. There were about 500 assigned chairs, two video screens and a mini-camera perched on the right side of the keyboard, offering viewers high-definition proof that even at age 63, this is one versatile pianist. The screens were almost not necessary; there was no bad seats in this house.
***
Sir Elton did more singing than speaking, yet made clear that he recognized the political ramifications of the event and his role there. He is openly gay and, as he noted, he and his partner had a son on Christmas day. He was at turns politic and caustic in his description of politicians and church leaders who oppose gay rights.
"As a gay man, I think I have it all: I have a wonderful career, I have my health, I have a partner of 17 years, and I have a son," he said. "But I don't have the respect of the church or politicians who says I'm less worthy because I'm gay."
He denounced them with an obscenity, voiced twice, drawing loud cheers from the crowd
Sir Elton was also remorseful in describing how he responded, as a younger gay man before he had gone public, to the outbreak of the AIDS epidemic, mixing criticism with the American government with personal remorse. "The American government was AWOL," he said. "And I was AWOL." He said the government's response had been a disgrace. "And I was a disgrace as well."
Elton John Plays Calif. Benefit to Back Gay Marriage [nyt]
(images via twitter)