More fall-out from CPAC over GOProud's involvement: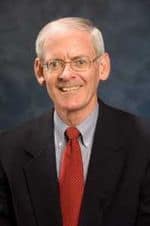 "Tom Minnery, senior vice president of the Focus lobbying arm CitizenLink, said Tuesday that the February event could be the last time the Colorado Springs-based ministry is a CPAC sponsor. CitizenLink is participating this year in part to offset GOProud's presence at CPAC, Minnery said.
'When you don't have the influence of organizations like ours,' Minnery said, 'you end up with influences from organizations like GOProud.'…
***
Last year Liberty Counsel, which offers legal counsel on Christian issues, was the only CPAC 2009 cosponsor, among dozens, to pull out because of GOProud's participation.
This year, Liberty Counsel, the Family Research Council, Concerned Women for America, American Principles Project, American Values and a few others are boycotting the event. 'To have a cosponsor that undermines the values of another cosponsor makes no sense,' Liberty Counsel President Mat Staver said."
MSNBC's Cenk Uygur recently spoke to GOProud's Christopher Barron about the conservative exodus from CPAC (Conservative Political Action Conference) over GOProud's participation.  Asked Uygur: "How can you with good conscience vote for a party that does not like you? They don't like who you are. They don't like your identity."
Said Barron: "The conservative movement is absolutely welcoming to gay people….I have an easier time being openly gay with conservatives than I do being a conservative with gay people."