The Illinois Supreme Court has put Rahm Emanuel back on the ballot: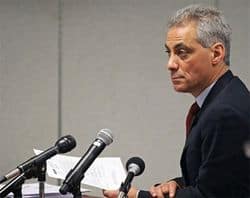 In a 7 to 0 decision, the court Thursday said an appellate court erred in taking Emanuel off the ballot earlier in the week.
The decision means Emanuel holds onto his position as the first name on the ballot in the Feb. 22 election. Emanuel has been leading in both the polls and fund-raising in the race that includes candidates Carol Moseley Braun, Gery Chico, and Miguel del Valle. Patricia Van Pelt Watkins and William "Dock" Walls are also on the ballot.
The Supreme Court's decision overturns an appeals court ruling Monday that knocked Emanuel off the ballot.