NATHANIEL ROGERS
…would live in the movie theater but for the poor internet reception. He blogs daily at the Film Experience. Follow him on Twitter @nathanielr.

SPECIAL EDITION
 In the wake of Tuesday morning's Oscar nominations, it's been nearly impossible to think of anything else — cinematically speaking, that is. Or at least it has been for those of us afflicted with the Naked Gold Man addiction.  Herewith ten random thoughts/observations about this year's Oscar circus.
10. Look Ma, No Arms.
[SPOILER]. Three of the Best Picture nominees (127 Hours, True Grit, Winter's Bone) make an end game plot point about losing a limb. [/SPOILER] Only one of these amputations is performed by a qualified medical professional and that one's performed offscreen. We're not sure what this says about filmmakers but does this make Oscar voters sadistic voyeurs. But take note actors: you're much more likely to be nominated if you lose a limb than if you pleasure a woman orally. Which — wait, what…?
Oops, that's #9. MORE AFTER THE JUMP…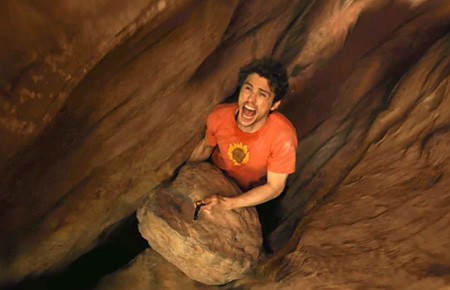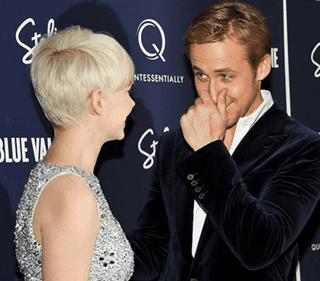 09. Vagina Dentata?
There was an unusual amount of cunnilingus onscreen this year and we're talking big screen, not laptops or private viewing booths. It started early with Ben Stiller and Greta Gerwig in Greenberg
"You let a mental patient go down on you?"
…and it didn't let up all year. This might seem like a weird coincidence but it's actually the case. I wrote it up so I thought it through. Three of the most prominent acting snubs did the deed onscreen: Ryan Gosling in Blue Valentine (pictured left with Michelle Williams at the premiere), Mlla Kunis in Black Swan, and Julianne Moore in The Kids Are All Right. Everyone on the receiving end of those tongue baths was nominated.
Is Oscar saying it's better to receive than give?
08. 12 is Too Big
Before nomination morning, the bulk of Oscar pundits thought that The Social Network had the Best Picture win in the bag. But The King's Speech then joined a very elite rank of films with a 12+ tally on Tuesday which it can now smack The Social Network around with. Some of those nominations seemed wholly uneccessary… Best Editing? Best Sound Mixing?
07. The Supporting Actor Race is Awesome For Once
Historically this category is something of a dumping ground. They so often use it to recognize performances that are adequate in films tailor made for them (I'm talking to you Matt Damon in Invictus) or performances that are uncharacteristically embarrassing from a generally great performer who is due (I'm talking to you Stanley Tucci in The Lovely Bones) and so on.

This year's competitive set (Christian Bale, The Fighter; Geoffrey Rush, The King's Speech; John Hawkes, Winter's Bone; Jeremy Renner, The Town; Mark Ruffalo, The Kids Are All Right) is uncommonly deserving and, to quote Mark Blankenship:
Give or take a Geoffery Rush, I would make out with every single nominee in the category. And hell… if he talked to me all smart, I'd probably spare a peck for Rushie.
06. No Actors of Color. But…
Though the Academy always takes flack for the lack of color in their nominations, this year's predictable complaints about that seem misdirected. Better to blame casting directors and studio heads. Who could they have chosen? Night Catches Us stars two great actors (Anthony Mackie & Kerry Washington) but it didn't even gross $70,000 at the box office and that's not enough for Oscar eyeballs even if Clint Eastwood had made it with Brad & Angie in the leading roles. For Colored Girls was a much higher profile outing but the movie was poorly reviewed and forced its terrific actresses into often schizo performances with its rapid shifts from the play's gorgeous verse to newly written clunkers like 'we're sisters. we're supposed to stick together'. Besides, movies with terrible reviews don't get Oscar traction unless there's some extenuating circumstance like 'ZOMG. Cate Blanchett's a Virgin Queen again!'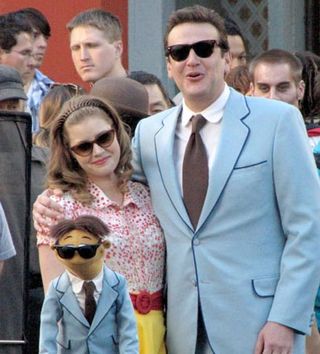 05. James & Annie
Aren't you dying to now what they're up to as hosts. We know there will be singing but otherwise…
04. Amy Adams is Adorable
Her co-star Melissa Leo is racking up the precursors for The Fighter but Adams is obviously winning an Oscar soon even if it's not this February. She's been nominated three times now in the past six years (Junebug, Doubt) and momentum is key to winning gold. She's already won Best Oscar Nomination Morning Quote this year from the set of The Muppet Movie (2011). She told Entertainment Weekly
"I am going to spend the day with the Muppets. And I am going to gloat to Miss Piggy."
Miss Piggy will be livid.
03. "A Win For Marriage Equality"
That's what Mark Ruffalo called the Oscar enthusiasm for The Kids Are All Right, the dramedy in which he disrupts the dynamic of a two mom home. Even if that's an optimistic read of Oscar's leanings  — they've still never given an out actor the statue and we know what happened with Brokeback— it's still quite joyous to see a gay film in which no one is tragic, closeted or dead embraced with multiple Oscar nominations.
02. Close Your Eyes and Think of Last Year
When Colin Firth wins for The King's Speech (2010) I plan to close my eyes and pretend he's winning for A Single Man. This is often the best way to deal with Oscars since people rarely win for the right performance. They have to make it up to them later. Not that Firth wasn't good in The King's Speech but snubbee Ryan Gosling was truly truly special this year. I'm Team Eisenberg among the nominees.
01. "You Haven't Have Seen The Last of Me"
Internet fanboys were put on suicide watch when Chris Nolan was snubbed for "Best Director" again. This year marked the third time the superstar Inception auteur been expected to show up on Oscar's list (after Memento and The Dark Knight) but missed. That's a dubious distinction he shares with Rob Reiner (Stand By Me, When Harry Met Sally, A Few Good Men), the other director who won three Director's Guild nominations which were all followed by Oscar snubs. But if you ask me the most shocking omissions were Waiting for 'Superman', which had been expected to win Best Documentary and "You Haven't Seen The Last of Me" from Burlesque missing out on Best Song after its Golden Globe win. Last year they jettisoned the Best Song performances and without Cher warbling that earworm survival anthem, why bother performing them this year? That is unless, by way of apology, they invite the goddess to perform all the nominated songs — like that year when Beyoncé strung all the nominated melodies together.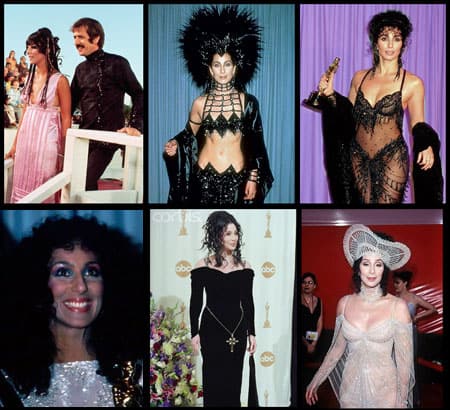 Six Cher Oscar Looks
The Academy should never diss Cher. She gives good red carpet and now they've lost one potentially huge moment of the Broadcast. It's not like Randy Newman singing another Toy Story song he wrote in four minutes is going to make headlines on Hollywood's High Holy Night.