From 6:30 to 8:45 pm on Monday, the Iowa House will be holding a public hearing on legislation to amend the Iowa constitution to ban same-sex marriage civil unions, and domestic partnerships, the Iowa Independent reports: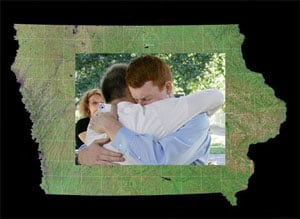 The bill, House Joint Resolution 6, cleared the House Judiciary Committee on Monday with the support of 12 Republicans and one Democrat. In order to amend the constitution, the legislation would have to pass this year and again in 2013 before going on the ballot for a popular vote. Senate Majority Leader Mike Gronstal has vowed to never allow such an amendment to come up for debate. Democrats still have a 26-24 majority in the Senate.
Persons wishing to speak may sign up at the Legislative Information Office, Room G16, located in the Iowa State Capitol, or call 515-281-5129. If unable to attend, you may e-mail written testimony to the LIO: lioinfo@legis.state.ia.us Please type "Testimony" in the subject line.