Attorneys in the federal challenge to Proposition 8 have asked the California Supreme Court to reject a request by the 9th Circuit Court of Appeals to rule whether sponsors of the Prop 8 initiative have standing to appeal.
The L.A. Times reports: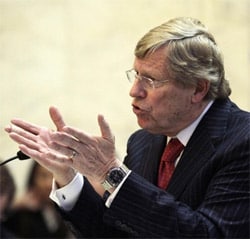 In his letter to the state court, Theodore B. Olson, an attorney for two same-sex couples, said the question of standing in federal court is a federal constitutional issue, not a state one, and that the California Supreme Court would merely prolong the case by agreeing to answer the 9th Circuit's question.
Olson also argued that "well-established" law in California denies initiative sponsors the right to represent the state in litigation.
"It is clear that California law vests the Attorney General — not private litigants — with the authority to represent the State's interest in litigation," Olson wrote.
Erwin Chemerinsky, a constitutional law professor and dean of UC Irvine's law school, said he was not surprised by Olson's argument. Lawyers generally want an issue to be decided by a forum where they expect to win, Chemerinsky said.
The California Supreme Court has never clearly stated whether initiative sponsors have legal authority to defend ballot measures, and how it would rule is difficult to predict, the professor said. In contrast, two of the three 9th Circuit judges hearing the case appeared likely to rule in some fashion in favor of Proposition 8's challengers.
The state high court is still reviewing letters on the case and has not yet decided whether to agree to the 9th Circuit's request.
Previously…
Analysis: Ninth Circuit Asks California Supreme Court to Answer a Question of Standing in Prop 8 Case [tr]