They'll both present again (Together? we aren't sure.) at this year's Golden Globes on January 16th. (Burlesque is nominated for Best Musical or Comedy) Other celebrities scheduled to hit the stage include: Halle Berry, Neil Patrick Harris, Jennifer Garner, Kate Winslet, Jennifer Aniston, Josh Brolin, Gerard Butler, Chace Crawford, Cameron Diaz, Colin Farrell, Jodie Foster, Matthew Fox, Mel Gibson, Tom Hanks, Nicole Kidman, Taylor Lautner, Sophia Loren, Amy Poehler, Julia Roberts, Mickey Rourke, Kiefer Sutherland and Sam Worthington.

Did you ever see Eat Pray Love? Julia Roberts is still quite fond of her co-star Javier Bardem. Now she wants Academy members to Watch Love Vote for his performance in Mexico's Oscar submission BIUTIFUL in which he plays a cancer stricken man with a mess of other problems, too.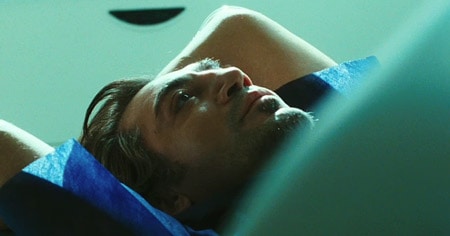 Frustrated that Bardem hasn't been gaining Oscar traction, Julia is now stumping for him on the campaign trail. Her endorsement can't be taken lightly in Hollywood. Remember how hard she pushed for Denzel Washington's second win followed by her focus-pulling move on Oscar night. "I love my life!" she exclaimed, right before announching his name as the winner for Training Day.

Remember that adorable little boy who dressed as Scooby Doo's Daphne for Halloween last year? The mom's loving tribute to her son went viral. The story has another happy ending: Warner Bros sent them a huge care package in the mail. All of this suddenly makes the uncool Scooby Doo franchise seem so much worthier of continued existence.

With hotties Garret Hedlund (Tron Legacy) and Mark Wahlberg (The Fighter) both making noise in theaters right now, My New Plaid Pants revisits their pairing in Four Brothers [mildly NSFW] How close are these brothers anyway?

Robert De Niro will be the president of the jury at the world's most prestigious film festival in Cannes this summer.
What do you think of Hollywood's Double (Chin) Standard? It is tough not to notice it while watching the trailer to The Dilemma. How did Vince Vaughn and Kevin James snag Jennifer Connelly and Winona Ryder, anyway!?

(Junk) food for thought. Do The People's Choice Awards Really Have Worse Taste Than the Oscars?