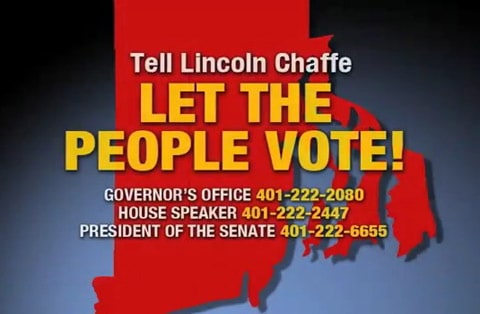 The National Organization for Marriage in Rhode Island has released its first ad opposing a marriage equality bill in Rhode Island, which was introduced last week.
The ad misspells Governor Lincoln Chafee's name. Chafee called for marriage equality in his inaugural address.
Providence Roman Catholic Bishop Thomas Joseph Tobin attacked the bill and Chafee over the weekend, saying, "It is particularly disturbing that our new governor, who has trumpeted his desire to bring our state together in unity, would adopt such a very divisive agenda item as one of his first priorities. His proposal violates the sincere conscience of many of our citizens and inflames passions on both sides of the issue. … Our state leaders could better serve all Rhode Islanders by working on initiatives that will create jobs and improve the overall economic health of our state."
Watch, AFTER THE JUMP…
UPDATE: The video has been removed — to correct the spelling perhaps?
UPDATE II: The clip is back.