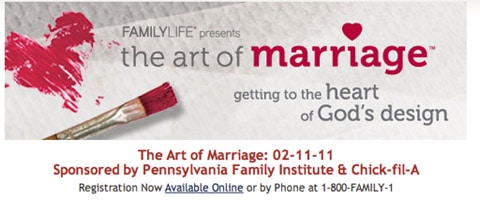 The Pennsylvania Family Institute is very angry about the attention that has been drawn recently to the chicken chain Chick-fil-A's involvement in a marriage conference being run by the PFI, the state's most rabidly anti-gay group.
Incidentally, Chick-fil-a was concerned enough with the situation that it issued a tweet about it and its name promptly disappeared from the event's online advertising materials.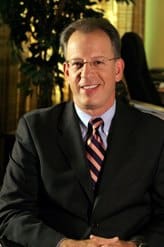 Now, President of the Pennsylvania Family Institute Michael Geer is speaking out in a Christian publication, attacking the blog "Good As You", saying it "trumped up" the story:
Setting the record straight, Geer said Chick-fil-A is not sponsoring the event. "There are a couple restaurants that are giving us food," he shared. The food, mostly chicken sandwiches, is for a day-and-half-long workshop for couples who want to strengthen their marriages.
According to Geer, the local Chick-fil-A branches involved were simply trying to "be good neighbors" to the marriage retreat being held at two local churches. "We didn't even get any money," maintained Geer. The food was freely donated to the churches hosting the marriage retreat.
Geer also denounced mentions in the blog and later homosexual magazine On Top for wrongly suggesting that Chick-fil-A's corporate office, located in Georgia, is involved in the event. Despite restaurant creator Truett Cathy's profession of faith, Geer says it was a local decision to give the food.
Sounds like somebody got a call from corporate.
"People should applaud institutions that want to strengthen marriage," he stated. Geer expressed "disappointment" at online publications that would try to taint the meaningful event.
If the Pennsylvania Family Institute wanted to "strengthen marriage" they would end their hate campaigns against people who actually want to marry.