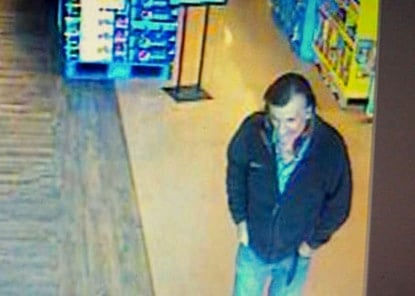 Tuscon shooter Jared Lee Loughner may not have acted alone in yesterday's tragic shooting that killed six people and left 14 others, including Democratic Congresswoman Gabrielle Giffords, injured. Police are now searching for a "person of interest" who they believe might be linked to Loughner. The man, seen above, is described as a white, middle-aged man with dark hair.
Update: "Jared Loughner is charged with one count of attempted assassination of member of Congress, two counts of killing an employee of the federal government and two counts of attempting to killing a federal employee."
Update 2: Pima County Sheriffs have said that the person of interest was Loughner's cab driver who entered the Safeway to get change and was not an accomplice.
There are now reports that a Department of Homeland Security memo claims investigators are looking into whether Loughner is associated with the extremist, anti-government group American Renaissance.
Politico reports:
The group promotes views that are "anti-government, anti-immigration, anti -ZOG (Zionist Occupational Government), anti-Semitic," the DHS memo says. It's not immediately clear that Loughner was actually a member.

Arizona Rep. Gabrielle Giffords, the target of Loughner's firing frenzy, is "the first Jewish female elected to such a high position in the US government. She was also opposite this group's ideology when it came to immigration debate," according the DHS memo. The group's website features what appear to be paid advertisements for tea party versions of the "don't tread on me" flag.
Giffords, who police believe was the primary target, remains heavily sedated after undergoing two hours of surgery yesterday. President Obama spoke to her husband, NASA astronaut Mark Kelly, last night.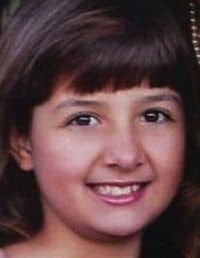 The AP describes yesterday's chaotic scene: "'He was not more than three or four feet from the congresswoman and the district director,' Kimble said, describing the scene as 'just complete chaos, people screaming, crying.' Pima County Sheriff Clarence Dupnik said the rampage ended only after two people tackled the gunman. 'He was definitely on a mission,' said Villec, a former Giffords intern."
The youngest victim, 9-year-old Christina Taylor Green, attended yesterday's public event with a enighbor. She had just been elected to the student council at her elementary school. US Federal Judge John Roll, who was also killed in the shooting, had stopped by to visit his friend Giffords.
Not surprisingly, the sick and twisted Westboro Baptist Church has already announced they will picket the funerals of the dead.
An aide from Sarah Palin is now attempting to back-pedal by making the ridiculous claim that the cross-hairs on her target map, are not what they appear to be: "'We never ever, ever intended it to be gun sights. It was simply cross-hairs like you'd see on maps,' said Rebecca Mansour on the Tammy Bruce radio show. Moreover, there was 'nothing irresponsible' about the image, and to draw a line connecting Palin and Saturday's shooting is 'obscene' and 'appalling.'"
Watch a KVOA report featuring interviews with some of Loughner's former high school and college classmates, AFTER THE JUMP.