Rahm Emanuel will remain on the ballot for mayor of Chicago, at least for now, while the Illinois Supreme Court considers the case: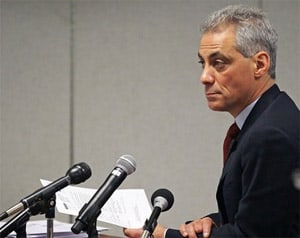 The court has not decided whether to hear Emanuel's appeal of Monday's Illinois Appellate Court ruling that tossed him out of the race to replace Mayor Daley. But the Supreme Court granted Emanuel's motion for a stay of the ruling.
"The appellate court decision is stayed,'' the Supreme Court's order reads. "The Board of Elections is directed that if any ballots are printed while this Court is considering this case, the ballots should include the name of petitioner Rahm Emanuel as a candidate for Mayor of the City of Chicago.''
The state appellate court ruled Monday that Emanuel did not meet the one-year residency requirement to run for mayor of Chicago.
Also, the Chicago Tribune reported last night:
"The two Appellate Court judges responsible for tossing Rahm Emanuel from the ballot in February's mayoral race both won their jobs after being anointed by a Chicago political power broker who openly supports an Emanuel opponent.
Whether or not their opinions are colored by politics, the case has recharged the debate among critics who decry a process of selecting judges that relies more heavily on political clout than merit."