It's unlikely that Elton John and David Furnish will be bothered in the middle of the night anytime soon to change little Zachary's diapers or get him a bottle, according to a Mail on Sunday report.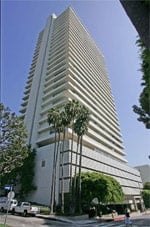 "Sir Elton John's new baby son Zachary is 'living like royalty' in his own £1.3million ($2 million +) apartment adjoining the singer's exclusive Los Angeles pad. The Mail on Sunday has learned that Sir Elton, 63, and his partner David Furnish have appointed a top Hollywood interior designer to turn the flat beside their luxury home into a dream nursery. Although the work is not yet finished, several months after it started, eight-day-old Zachary is already installed there, and looked after by round-the-clock nannies."
And some info on the surrogacy:
Lawyer Andy Vorzimer, who handled the paperwork for Sir Elton, said the couple chose to have their baby in California because it is the only place in the world where a couple taking a surrogate baby can be considered its legal parents before it is born. He said: 'Once a judge signs a judgment, the baby is the legal child of the intended parents even though it is still in the womb of the surrogate. In the case of a celebrity being involved, all paperwork is sealed by the judge to protect the identity of both the child and the surrogate.' 
A source close to the couple said: 'Contrary to what has been written, they don't know whether Elton or David is the dad. They also have other embryos available should they wish to have another child.' Ms Bubrick confirmed: 'It is quite common in the case of gay couples that both men will both contribute so neither knows who is the father. Of course, as the child grows, sometimes it becomes obvious.'
If you could afford to, would you do it this way?