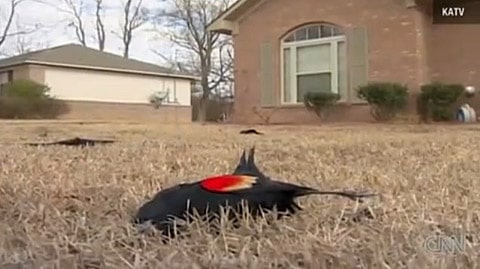 Residents of Beebe, Arkansas woke on New Years Day to a vision out of some kind of Hitchcockian apocalypse — thousands of dead birds, mostly red-winged blackbirds, had fallen from the sky.
The AP: "The Arkansas Game and Fish Commission said Saturday that it began receiving reports about the dead birds about 11:30 p.m. the previous night. The birds fell over a 1-mile area of Beebe, and an aerial survey indicated that no other dead birds were found outside of that area."
Theories on the deaths include lightning, high-altitude hail, or stress caused by NYE fireworks. Officials doubt poison as the cause, and are investigating.
Watch a news report on the birds, AFTER THE JUMP…