White House Press Secretary Robert Gibbs is leaving to become an outside political adviser to the President and his reelection campaign, the NYT reports: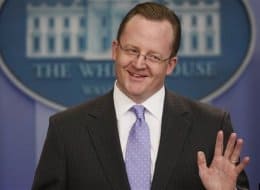 "Mr. Gibbs said that he intends to leave the podium in early February. His successor has not yet been decided, he said, but will likely be announced within the next two weeks…The leading potential replacements for press secretary include Jay Carney, a spokesman for Vice President Joseph R. Biden Jr., along with Bill Burton and Josh Earnest, who work as deputies to Mr. Gibbs. Other candidates also could be considered, an administration official said."
The White House Chief of Staff position is also in flux, with former Commerce Secretary William Daley and political consultant Pete Rouse, who is serving as interim Chief of Staff, in the running.