The marriage debate in Iowa continues to heat up. About 35 people gathered in Council Bluffs, Iowa yesterday as part of a Tea Party sponsored rally in support of a ban on same-sex marriage in that state. Headlining the event was wingnut freshman Republican State Representative Kim Pearson who, along with Republicans Tom Shaw of Laurens and Glen Massie, has helped draft legislation to impeach the remaining four justices on the Iowa Supreme Court.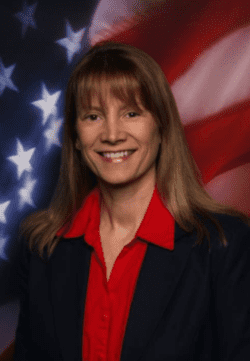 The Omaha World-Herald reports on the narrow-minded things Pearson had to say at yesterday's little-attended rally:
"I'm a Christian, social, fiscal conservative," Pearson said. "The social and fiscal conservative values work." Speakers at the event called on Iowa Senate Majority Leader Mike Gronstal, D-Council Bluffs, to allow floor debate on a resolution to ban same-sex marriage in the state. A resolution is required for the constitutional amendment process to move forward. Gronstal has stated repeatedly he will block such a debate, saying that the Iowa Constitution should not be amended to deny rights to people. It's expected that such a resolution would pass the GOP-controlled House.

"We have to listen to the people," Pearson said. While she supports a constitutional amendment to overturn the Iowa Supreme Court ruling that legalized gay marriage, she said, she would prefer that a ban come through the legislative process because that would be faster. "The definition of marriage is between one man and one woman," she said. "God is our ultimate lawgiver.
The Tea Party supported Pearson during her campaign last year in which she defeated Democrat Geri Huser.
On her campaign site, which is still up, Pearson writes, "I am outraged with the Iowa Supreme Court's judicial activism and the legislature's cowardice. The legislature makes the law and the courts express their opinions."
Watch a video of Pearson taken on election night, 2010 where she tells the cameraman, "The first thing I did was flip the ballot over and vote 'no' on all three of those judges," AFTER THE JUMP.