Attorney General Greg Abbott does not have jurisdiction to appeal the divorce of a lesbian couple in Austin last year, a Texas state appeals court has ruled.
The Dallas Voice reports: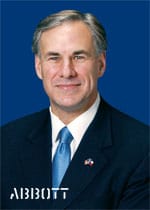 A Travis County district judge had granted the divorce to lesbian couple Angelique Naylor and Sabina Daly last February. Naylor and Daly married in Massachusetts in 2004 before returning to Texas and adopting a child. Abbott's office appealed their divorce, arguing that judges in Texas cannot grant same-sex divorces because the state doesn't recognize same-sex marriage.
Abbott won an appeal last year challenging another same-sex divorce in Dallas, where the 5th District Court of Appeals ruled in his favor.
Apparently the court ruled the way it did because the AG intervened after the divorce was granted, and neither party challenged the state constitution or Family Code.