Ari Ezra Waldman is a 2002 graduate of Harvard College and a 2005 graduate of Harvard Law School. After practicing in New York for five years and clerking at a federal appellate court in Washington, D.C., Ari is now on the faculty at California Western School of Law in San Diego, California. His areas of expertise are criminal law, criminal procedure, LGBT law and law and economics. Ari will be writing weekly posts on law and various LGBT issues. 
Follow Ari on Twitter at @ariezrawaldman.
Fresh off judicial and legislative victories that are closing the final chapter of insidious discrimination against gays and lesbians in the American military, our community just received a stark reminder that our quest for equality is ongoing. Yesterday, the Department of Justice filed its appeal in Gill v. OPM and Massachusetts v. HHS, two cases out of Boston that declared Section 3 of the Defense of Marriage Act (DOMA) unconstitutional. The arguments in this brief were expected and they rehash many of the points we have discussed here. I would like to provide a short summary and some analysis.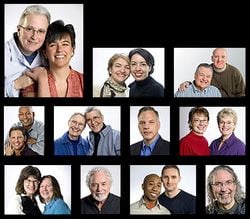 The brief (available here) argues that DOMA Section 3 — which restricts federal recognition of marriages those between a man and a woman and, as a result, denies access to countless federal benefits to same-sex couples married in marriage equality states — does not violate the equal protection component of the Fifth Amendment's due process clause because Congress had a rational reason for passing the law.
And yet, when I read this brief, I was overcome by a sense of half-heartedness. The DOJ's arguments are old, overused and hardly compelling. The brief goes to great lengths to remind us that President Obama opposes DOMA and seeks its legislative repeal. It spends way too much time trying to tell the First Circuit that its job is to simply defer to Congress. Whatever the merit of these arguments, the message is almost pro forma — that is, the DOJ is defending DOMA because it has to. We can certainly debate whether it must defend a law it hates, but in fulfilling its arguable constitutional obligation to defend duly enacted laws, the DOJ is doing the minimum and letting the chips fall where they may.
Summary and analysis AFTER THE JUMP.
Summary
This case is based on what is called "rational basis review," which essentially allows courts to uphold admitted discrimination if the "classification," an antiseptic and lawyerly term of discrimination without the negative connotation, is rationally related to some legitimate government interest. In other words, there has to be some conceivable reasonable explanation for the law. What's more, that rationale need not even be among the rationales Congress listed or discussed when it passed DOMA in 1996. There just has to be some reason out there that is kinda sorta related and is kinda sorta legitimate. More on this later.
The DOJ offered three possible rationales:
1. Congress wanted to preserve the status quo while the states worked out the evolution of marriage law. We've heard this argument before. States have always been the source of legislative experimentation for resolving problems, so while they work out the kinks, DOMA, the argument goes, keeps federal law from being applied haphazardly.
This argument was neatly debunked by Judge Joseph Tauro, the district court judge in these cases. The DOJ's argument is both wrong on its face and internally inconsistent. It's wrong because it suggests that DOMA maintained the status quo as to federal marriage law. But, federal marriage law is a misnomer; there has never been any federal marriage law except to recognize whatever the states said was a valid marriage. In the world of marriages, New Hampshire recognizes as valid different marriages than, say, Texas. Some states permit marriages between certain cousins, others do not. The federal government has never distinguished between those rules, nor has it sought uniformity in the face of such differences. Therefore, the status quo of federal marriage law was not "we only recognize opposite-sex marriages as valid," but rather "we recognize whatever the states recognize as valid."
The DOJ offers counterexamples, suggesting that Congress has looked beyond state definitions of marriage in certain circumstances. Immigration is a perfect example. When deciding if an immigrant's marriage to a citizen is valid, the INS will look beyond a state's certification of marriage to determine if it is simply a green card marriage. That may be true, but if the marriage is a green card marriage, that marriage is also invalid in the state in which it was performed. The DOJ, then, is using the definition of "fraud" at the state and federal level as proof that the federal government has its own marriage law. That doesn't pass the smell test.
The argument is also internally inconsistent in that it admits that the states are the lords of marriage law and then defends the US Congress's attempt to institute a uniform federal definition of marriage. It also sets up a false dilemma — DOMA is no more essential to state "experimentation" or the evolution of marriage law at the state level than a uniform gun control law is to state experimentation on gun restrictions. That is, even without DOMA, states could debate and change their marriage laws; even without an assault weapons ban, states and cities can pass comprehensive gun control laws. It is a misapprehension of the relationship between the federal and state "marriage law" to suggest that DOMA protects state experimentation, especially where no federal marriage law ever existed before.
2. Congress could have wanted to keep federal law uniform while the states experiment with changing marriage law. This is the DOJ's best argument. Preserving uniformity of law is a rational and legitimate government interest and allowing marriage equality in certain states when not allowing it in others could prove complicated for the provision of federal benefits — gays in Massachusetts will get benefits, but gays in Maine will not.
Setting aside the fact that this reality is not all that complicated, uniformity is a tough argument given the fact that Congress has never sought uniformity of marriage law in any other aspect of marriage law before. Different states have different ages of consent for valid marriages, for example. That Congress has never sought uniformity with regard to age may suggest that something else is behind DOMA, perhaps an animus toward gays and their relationships.
3. Congress could have wanted to respect federalism's division between state and federal law. The DOJ argues that in passing DOMA, Congress could have been reflecting its deep respect for state dominion over family law and, as such, wanted to give the states latitude to let their marriage law evolve.
That makes no sense to me for the reason discussed above. DOMA is neither essential nor even related to giving the states the room to debate marriage equality. That freedom exists regardless of the federal definition of marriage. In fact, it actually restricts the marriage equality debate in the states by lending credibility to anti-equality forces. "Look at the federal government," the National Organization for Marriage could say, "even Congress believes marriage is between a man and a woman, so why should [insert state] disagree."
Analysis
There is much more to the DOJ's brief, including a well-reasoned argument as to why DOMA is a valid exercise of Congress's spending power and a less-persuasive, but still valid, argument as to why DOMA does not violate the Tenth Amendment, which gives to the states all powers not given to Congress in the Constitution. In future posts, I could discuss those arguments (if there is interest… please let us know in the comments), but suffice it to say that those arguments are of a different character than the arguments above.
My argument is that the DOJ is compelled to defend DOMA from Spending Clause and Tenth Amendment challenges, whereas it has less of a need to defend it on due process grounds.
The Spending Clause argument is that DOMA affects federal benefits and the provision of federal monies to married couples. As such, DOMA conditions federal benefits on certain requirements set forth by Congress, and DOMA is a valid manifestation of Congress's power to allocate federal funds and pass laws for the general welfare. The Tenth Amendment defense is that while marriage law is traditional the purview of the states, the Tenth Amendment does not apply when Congress acts pursuant to another enumerated power, in this case the Spending Clause and the General Welfare Clause.
An adverse ruling on either the Spending Clause or the Tenth Amendment arguments would set a dangerous precedent for Congressional power, in general. This is different from the precedent set by the DOJ not defending duly enacted laws; I am talking about a Tea Party-esque precedent that narrows the Spending Clause and balloons the Tenth Amendment to a point that neuters the federal government's power to pass social legislation. This could impact state challenges to health care reform, environmental legislation, gun control laws, even the Civil Rights Act, all bedrocks of the modern left. If the First Circuit says that Congress had no power under the Spending Clause or the General Welfare Clause and the Tenth Amendment restricts Congress's power to pass laws in areas traditionally reserved to the states, those arguments could come back and haunt liberals in areas far outside the gay rights realm.
This means that, as the protector of federal power, the DOJ must defend DOMA on these grounds. It must protect the federal government from impingements on its power and rights. And, while this argument holds for the equal protection/due process arguments above, it is not as powerful. We should be more worried about restrictions on Congress's power to spend money to pass social legislation than restrictions on Congress's power to discriminate. So, if you care about Congress's power to resolve social problems on a national basis — as many on the left do — take a moment to consider what opposition to the DOJ's DOMA defense may mean.