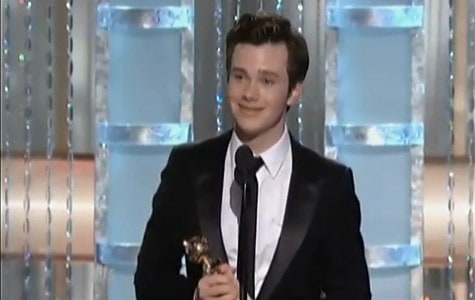 Chris Colfer won the Golden Globe for Best Supporting Actor in a TV series as gay teen Kurt Hummel, on Glee.
Said Colfer: "To all the amazing kids that watch our show, and the kids that our show celebrates that are constantly told 'no' by the people and the environments, by bullies at school that they can't be who they are or have what they want because of who they are, well (holds up award)…screw that kids!"
Watch, AFTER THE JUMP…
Other LGBT-related Globes of note: Annette Bening wins Best Actress in Musical or Comedy for The Kids Are All Right, Jane Lynch wins Best Supporting Actress in a TV series for Glee, Glee for Best Musical or Comedy TV series, The Kids Are All Right for Best Motion Picture, Musical or Comedy…
Full list coming post-show.