The Westboro Baptist Church is, of course, planning to picket the funerals of those slain in Tucson over the weekend. One group plans to raise money for the anti-violence project of Southern California during Phelps' picket.
Chris Mason, Director of Phelps-A-Thon.com, writes, in a press release: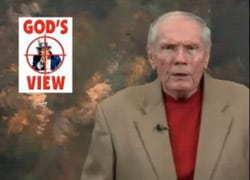 "The lesbian, gay, bisexual, and transgender (LGBT) advocacy group, Progressive Approach, is hosting an online PHELPS-A-THON to counter-protest the Westboro Baptist Church's (WBC) picket of the funeral of the victims of the recent shooting in Arizona. The WBC is protesting the funerals because they believe God sent the shooter to punish America for its tolerance of LGBT people. During their own protest, the Westboro Baptist Church will in fact be raising money for Wingspan, the Anti-Violence Project of Southern Arizona. The website, http://Phelps-A-Thon.com is collecting pledges online for every minute WBC pickets the funeral. The longer they protest, the more money they will raise."
More info on the fundraiser here.
Fred Phelps message, AFTER THE JUMP…